08 October 2011
Hertz Suspends 35 Muslim Workers for Praying Without Clocking Out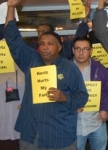 For years, Hertz Rent-a-Car has employed dozens of Muslim workers to shuttle its vehicles back and forth between Sea-Tac Airport and its nearby corporate office. The workers, mostly
Somali immigrants, earn relatively low pay--about $10 an hour and no benefits--but they insist on one thing: praying two or three times a day. Managers, however, were concerned that the prayer breaks would "get out of hand," according to Hertz spokesperson Rich Broome.
So they warned employees that they better start clocking out when they pray. Many refused. So on Friday, the company indefinitely suspended approximately 35 workers.
Teamsters Local 117 held a protest at Sea-Tac yesterday (pictured above) and filed a complaint with the National Labor Relations Board. "I don't know what conclusion to draw except that this is based on religious discrimination," says Tracey Thompson, the union's secretary-treasure.
Hertz denies it, saying that Muslims who follow the rules are still gainfully employed.
According to Thompson, the contested prayer sessions took place on a rug behind a barrier in the garage where Hertz keeps its cars. She says the union has timed the prayers, and they take four to five minutes. (Broome says they're longer.) Most of the year, the workers pray twice during an eight-hour shift, but on special occasions they'll add another prayer. To compensate for their time on the prayer rug, they forego the twice daily 10-minute breaks that employees are entitled to.
Thompson says Hertz has long accepted this practice. And last year, she says, the company verbally agreed during negotiations that workers would not clock out for prayer breaks, even though all employees are required to punch in and out for regular breaks and meal times.
Broome denies such an agreement, and the written language of the contract, forwarded to SW by the union, doesn't specifically address whether workers have to clock out for "mini breaks," as prayer times are categorized.
The Hertz spokesperson insists that the clocking-out rule was clear. Therefore the company recently decided it had to crack down on those who were "insubordinate."
In some ways, it's a strange dispute. It's not exactly about money. Workers get paid even when they're clocked out--unless they go over their allotted time. Instead, for Hertz, the crackdown seems to be about making sure that workers don't get a minute more of break time than they're entitled to. (Note to bosses in low-wage industries: This is why your employees hate you.)
Broome portrays the goof-off potential as serious. "We didn't want a situation where a 10- or 12-minute prayer turned into a 40-minute break," he says. Asked if workers were, in fact, prolonging their prayer breaks, he declined to say.
On the part of workers, they don't want to clock out despite being paid because, according to Thompson, they don't want to feel "monitored" during their religious rituals.
Yet, they are anyway, the employees claim. The union relates one incident in which a manager attempted to block a group of Somali women from their ad hoc prayer room.
"He stood in front of the prayer room with his arms fully extended," employee Maryan Muse is quoted as saying in a union press release. "We managed to get into the prayer room, but while we were praying, they [Hertz management] were laughing and clapping their hands, mocking us."
Broome says he has never heard of any such incidents before being contacted by SW. As for the suspended workers, he says they won't be taken back "until they agreed to follow the rules."