05 October 2011
2 Algerian Islamists call for bars to close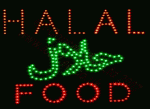 (AP) ALGIERS, Algeria — Two former ranking members of a banned Islamist party called on Algerians on Wednesday to demand that all bars and stores where alcoholic beverages are sold be shut down.
The two, Hachemi Sahnouni, who helped found the Islamic Salvation Front, and Abderazak Zeraoui Hamadache, said that alcohol is "perverting our youth and destroying our religious morals."

Their bid to end the sale of alcohol is significant because this Muslim North African country is in the process of defeating Islamist insurgents waging war since 1992. The call to close all bars recalls the period referred to as the "black decade" in the 1990s when extremists imposed their will on many villages and cities.

The two cited a September fight among drinkers in a small port outside Algiers, La Madrague, that left a young man dead.

"We call on neighborhood committees to demand the definitive closing of bars and shops selling alcoholic beverages, forbidden by the religion of the prophet," the two said.

In the past few weeks, several incidents have been registered against bars and shops selling alcohol. On Monday, a bistro in the Ruisseau neighborhood of greater Algiers barely escaped an arson attack by a group of men after evening prayers. Police nearby intervened.

The government has been little comfort to bar owners worried about the changing climate.

President Abdelaziz Bouteflika has over the years carefully maneuvered between Muslim fundamentalists and secular citizens of this former French colony. Critics say this lack of firmness has encouraged fundamentalists to make a return.

The Islamic Salvation Front was banned in 1992 after the army canceled legislative elections it was poised to win, triggering the insurgency. An estimated 200,000 have been killed in violence, extremists, security forces and civilians.

Reflecting the sensitivity of the situation, Prime Minister Ahmed Ouyahia ducked a question Friday about the growing fear of those selling alcoholic beverages, saying only that alcohol causes health problems.