30 September 2011
Orlando Florida Imam Arrested by the FBI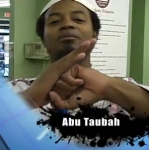 "Imams Gone Wild"
On August 23, 2011 the FBI arrested Imam Abu Taubah aka Marcus Dwayne Robertson. The charge was possession of a firearm by a previously convicted felon,
Case Number: 6:11-mj-1380
Attached to Imam Abu Robertson's case is a
Notice of Intent
To Use Foreign Intelligence

Surveillance

Act Information (FISA).
The U.S. Government's intention to use its FISA powers signals
probable cause
to charge Imam "Taubah" Robertson "the target of such search is a foreign power or an

agent

of a foreign power".
The facts presented in these filed charges leads this reporter to suspect an element of foreign intrigue may be a key component in the prosecution of this case.
Imam Robertson's Mosque is located at 6630 Pershing Road in Orlando, FL. The
Mosque's website
Masjid al-Ishaan is down for maintenance and hopefully out of business, if these charges prove the Imam's guilt. Thank you to The
Internet Haganah
for breaking this story, and shame on The Orlando Sentinel's refusal to publish a story on the arrest. This reporter sent all the court case documents to Sentinel reporter Jeff Kurneth, a letter to the editor accompanied the documents.
On September 2nd the Orlando Sentinel did run a

front page

story on Imam Muhammad Musri who was charging his fellow Muslims $5 to park for Friday Jumma prayers calling it the infamous "Pay to Pray" scandal. As important as "pay to pray" may be to some, it does not take a Sentinel Editor to realize that when the FBI arrests an Orlando Muslim Imam it is big news, especially to the residents who live and work near the Mosque in question.
In another Orlando Imam related story, the Orlando Sentinel neglected to print an alarming incident with Imam Musri back in 2010. A team of eight investigative reporters caught on film Orlando Imam Muhammad Musri

hosting

a fundraiser featuring the infamous George Galloway, who raised over $50,000 from local Orlando Muslims for Hamas -
video link
. After the video was released George Galloway's visa to enter the United States was revoked by United States Government. Imam Musri remains on the Governor of Florida's Faith Based Advisory Council and is considered the "go to" person in Orlando for all things Islamic.
A poster at Internet Haganah states correctly that,
"In Brooklyn, NY during the early 90s, Abu Taubah and a group of young Muslims executed a number of postal office and bank robberies under the direction of Abu Taubah, who used his military expertise to plan the armed robberies. When the young men and a sister were apprehended by authorities, Abu Taubah turned to a federal witness testifying against the very Muslims he trained to commit crimes."
Imam Taubah Robertson was a snitch who sold out his Muslim friends to successfully receive a lighter sentence for himself. Imam "Snitch" Robertson is out of jail while his Muslim partners in crime are serving 50+ year sentences according to
court records
. The Qur'an demands harsh punishments against those Muslims who turn on their fellow Muslims.
In May of 2011 South Florida Imam Hafiz Khan, sons Irfan and Izhar Khan, daughter Amina Khan, and grandson Zeb were arrested for conspiring to provide material support in a conspiracy to kill, injure and kidnap people abroad, and providing $50,000 to the Pakastani Taliban. Hafiz Khan is the 76 year old Imam of the Jamaat al-Mu'mineen Mosque in Margate, Florida.
We are told ad nauseum by Muslim advocacy groups, the mainstream press, and our Homeland Security Department that Muslims who commit or support terrorist acts are "extremists", "misunderstanders of Islam", and "hijackers of the Religion of Peace". The facts in these cases

point

to the most trusted and knowledgable Muslim community leader, the Imam, as the terrorists among us.
The one recurring theme I see, in the Imam "Snitch" Robertson, Imam Khan, and Imam Musri stories, is that the Imams are the ones getting arrested or supporting terrorism. This fact completely debunks what we are being told by CAIR, ISNA, Muslim Brotherhood, the press, and our government. By definition an Imam is a prayer leader and is often the final arbiter of Shariah (Islamic Law) rulings in the American Muslim community.
We have three recent case studies where the "Imam" commits acts of Jihad while setting an example on how to be a "good" Muslim. Therefore, it is logical to conclude that when an Imam is committing acts of terrorism (both violent and non violent) they are following the true tenets of Shariah Islam because they are the most knowledgable on all things Islam. For Muslim apologists to say that "Imam's Gone Wild" do not impart their Jihadist views on the Muslim community is dangerously naive. Such reasoning makes an implausible argument. Imam Hafiz Khan made his terrorist Jihadi activities a family affair from Los Angeles, CA to Margate, FL. Imam Taubah "Snitch" Robertson was an ex felon not even a fellow felon could love. Imam Musri talks a good game and even has the ear of the Governor of Florida, but when he thinks no one is looking he is a supporter of Hamas. Imam Musri's Mosques' title holder, The North American Islamic Trust, is an arm of the Muslim Brotherhood according to

Holy Land

Foundation terrorist funding trial
court documents
. (Go to Page 15 for English Translation).
These three cases clearly show that an Imam can

cross over

easily from the spiritual to the political while staying true to their Political Islam. Imams around the world teach that Allah's Law is Superior to all man-made

laws

. The Qur'an, Muslims believe, was the final revelation of Allah transmitted to the Angel Gabriel who transmitted it directly to Muhammad and has not been corrupted by man. Muslims believe all previous religious and governmental constructs are NOT divinely inspired, including our Constitution and Bill of Rights.
If these Imam's gone wild were just isolated cases there would be no dots to connect. Unfortunately, the historical record is filled with stories of Imams implementing their political Jihadi Shariah in the United States of America. The fact that there have been cases in Florida of two Imams being arrested by the FBI in the last six months is a disturbing trend. Where else is this kind of suspicious activity going on?
The American people congratulate our local, state, and

federal law

enforcement agencies for not allowing another 9/11 type attack to take place again on our shores. We thank the FBI for arresting Imam Abu Taubah "Snitch" Robertson and making our Central Florida community safer. This reporter was very disturbed when

Attorney General

Eric Holder, with the possible blessing of President Obama, ceased further prosecutions of the unindicted co-conspirators in the Holy Land Foundation terrorist funding trial. The Holy Land Foundation trial was the largest terrorist funding trial in United States history.
It is problematic when domestic terrorists are treated like common

criminals

by our Justice system while we are at war with a totalitarian Islamist political ideology that is in no way compatible with our United States Constitution. It is problematic when the Orlando Sentinel does not print a story about the arrest of a local Imam by the FBI.
The first step needed domestically, is for our State Department to declare The Muslim Brotherhood a Foreign Terrorist Organization (FTO). This one action will allow the Treasury Department and the FBI to shut down and seize the assets of every sub group operating as an arm of The Muslim Brotherhood in America. These Brotherhood sub groups were outlined in documents submitted into evidence at the Holy Land Foundation Trial.
God Bless America and God Bless our Troops - America and Israel Akbar.
http://www.familysecuritymatters.org/