25 September 2011
Condo manager at centre of scandal seen in Bangladesh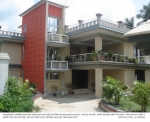 A Toronto property manager on the run after allegedly defrauding condos of millions of dollars was last seen a week ago in his ancestral village in Bangladesh where he recently built a mansion and an ornate mosque.
The Daily Prothom Alo, a Bengali-language newspaper, reported that Manzoor Khan was seen in his village in Magura district, some 350 kilometres from the capital of Dhaka.
Surrounded by lush plants and a high fence, Khan's two-storey residence is named Ashirbad, which means blessed.
The mosque, awash in marble, is about a mile from the house, a reporter with the paper said.
Khan, president of Channel Property Management Ltd., allegedly borrowed millions of dollars against at least nine buildings — in most cases without the boards' knowledge or approval.
He is also accused of rigging the tender process on building projects by creating fake companies that would come in at the lowest bid to win lucrative work in condos his company managed. He would then subcontract the work at a fraction of the price.
The total misappropriation may exceed $20 million. Several buildings have filed civil suits against Channel and Khan.
Channel filed for bankruptcy last week. The company was evicted from its Woodbridge office for not paying rent.
Toronto police are investigating.
The Star first reported the allegations last Thursday.
According to media reports in Bangladesh, Khan's younger brother, Sayed Faisal Azam, said Khan left Bangladesh in 1996 and only recently got back in touch with his family there. He built his house in the past two years, said Azam.
The brother told reporters he didn't know where Khan was but said he would be back in a month.
The Daily Amader Shomoy reported that Khan, who is also known as Azad, defrauded locals of more than $100,000 in 1984 by promising to send dozens of workers to the Middle East but then vanished. He reportedly moved to Dhaka where he dabbled in real estate.
Khan left Bangladesh in 1996 for Saudi Arabia and then Dubai before settling in Canada in the late '90s, the reports say.
A police officer in Dhaka told local media that Khan received a licence for a pistol and a shotgun five days ago at the police station.
While some have described Khan as a conman in the local papers, others say he was generous and gave money to local groups, including a Muslim religious school.
In Toronto, many also described the two sides of Khan to the Star.
Imranul Haq, 68, said Khan came across as a thoughtful, religious man.
It's what persuaded the airport security worker to lend Khan $100,000 from his line of credit over several years to help launch his property management business.
The pair met nine years ago when Haq was looking for work.
"He was an ordinary man at that time, you know," Haq said.
Khan was a superintendent at an apartment building on Martin Grove Rd. in north Etobicoke
They became friends, meeting for coffee. On Fridays, they attended mosque together. "It's how I got pulled toward him," Haq said.
Khan told Haq about his plans to start his own property management company and said he needed some money to get it going.
At first, Haq loaned his new friend $10,000 which Khan repaid over three years.
He asked for another $20,000. And another. And another.
"This went on until I lost $100,000," Haq said.
"I don't know what kind of magic he did on me. He never made me feel that I would not get the money back."
Haq last saw Khan at the Channel Property Management office in Woodbridge on Aug. 12, a few weeks before the company was evicted by the landlord.
He promised to get a payment to Haq "in a week's time."
Haq said he never would have believed that the man who brought him beads, a hat and a bottle of holy water from Mecca last year would run off with his money.
"He looked so pious."
Properties affected by the alleged fraud
1. 25 Grenville St., Toronto
2. 5 San Romanoway, Toronto
3. 3050 Ellesmere Rd., Toronto
4. 39 Kimbercroft. Ct., Toronto
5. 10 Markbrooke Lane, Toronto
6. 2121 Roche Ct., Mississauga
7. 236 Albion Rd, Toronto
8. 2645 Kipling Ave., Toronto
9. 3025 The Credit Woodlands, Mississauga
http://www.thestar.com