17 September 2011
Muslims bid to turn Christian site into mosque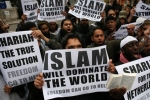 Tunisian parties agree on short transition period
(AFP): A group of Salafist Muslims took over a Christian basilica in the Tunisian town of Kef with the aim of turning it into a mosque, media reported Friday.
The daily La Presse newspaper said police dispersed about 20 people from the Roman site, who argued that it was a place of Muslim worship before it reverted to a basilica in 1966.
"Muslims went into the basilica to prepare the place for Friday prayers," interior ministry spokesman Hichem Meddeb told AFP, adding that he was not able to confirm they were Salafists.
"Police dispersed them without any trouble, talks took place with the governor and they have been invited to make an official request to the faith ministry," he said. "As things stand, the monument remains a basilica."
Meanwhile, Tunisian political parties agreed Thursday on a roadmap for the country's transition to democracy, planning for parliamentary elections in just over a year – a relatively short timeline designed to prevent further instability.
The declaration signed by the 12 main parties of the transition commission comes after a heated debate over how quickly the country would move on to writing a constitution and forming a permanent government after the Oct. 25 election of a constitutional assembly.
"This is an historic moment, despite our differences," said Maya Jribi, the chairman of the centrist Progressive Democratic Party, one of the more influential political groups.
Tunisians sparked off the unprecedented wave of pro-democracy uprisings across the Arab world by overthrowing their long-serving dictator in January. With a small, largely educated and homogenous population, Tunisia is believed to have the best chance of becoming a prosperous democracy.
Although the country has been wracked by unrest for much of this year, Tunisians have opted to take a gradual road to democracy by first electing a body to write a new constitution to determine their future political system.
Thursday's declaration gives the new assembly just a year to write the constitution and hold parliamentary elections so as to minimize the chance for further instability, participants said.
Also signing the document was the powerful Islamist Ennahda Party, which had previously left the transition commission after quarreling with the other parties. In a recent poll at least 20 percent of Tunisians said they would vote for Ennahda, double amount for the next most popular party, the PDP.