13 September 2011
Indonesia sends in police after Ambon clash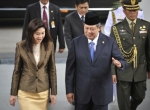 Indonesia has deployed hundreds of security personnel to Ambon, a city with a history of major sectarian violence, after clashes left three people dead, a police spokesman said Monday
The violence erupted in the Maluku provincial capital on Sunday after rumours spread through text message that a Muslim motorcycle taxi driver had been attacked and killed by Christians, according to reports.
Two groups, one believed to include the taxi driver's family, reportedly clashed after his funeral armed with machetes and rocks.
Police said the violence, which also left dozens injured, had simmered down but deployed security forces to the area in case of further fighting.
"We've sent 200 paramilitary police members and 200 police officers from Makassar," national police spokesman Anton Bachrul Alam said.
Officers were investigating the person responsible for spreading the texts, who had already been identified, he added.
"We urge the people in Ambon not to do any provocative acts through SMS (text message). It's the source of the conflict as it's misleading," he said.
Ambon and other islands in the Maluku chain were the scene of a sectarian conflict that left a total of more than 5,000 Christians and Muslims dead between 1999 and 2002.
A government-sponsored peace pact between Christian and Muslim groups in February 2002 mostly brought an end to the troubles in the area.
http://www.asianage.com/