11 September 2011
Obama: "The United States Is Not And Never Will Be At War With Islam"…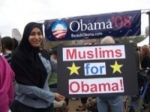 Statement by President Obama on the 10th Anniversary of the Attacks of 9-11: The Partnerships We Need
On this 10th anniversary of the terrorist attacks of September 11th, 2001, we remember that 9/11 was not only an attack on the United States, it was an attack on the world and on the humanity and hopes that we share.
We remember that among the nearly 3,000 innocent people lost that day were hundreds of citizens from more than 90 nations. They were men and women, young and old, of many races and faiths. On this solemn anniversary we join with their families and nations in honoring their memory.
We remember with gratitude how ten years ago the world came together as one. Around the globe, entire cities came to a standstill for moments of silence. People offered their prayers in churches, mosques, synagogues and other places of worship. And those of us in the United States will never forget how people in every corner of the world stood with us in solidarity in candlelight vigils and among the seas of flowers placed at our embassies.
We remember that in the weeks after 9/11, we acted as an international community. As part of a broad coalition, we drove al Qaeda from its training camps in Afghanistan, toppled the Taliban, and gave the Afghan people a chance to live free from terror. However, the years that followed were difficult and the spirit of global partnership we felt after 9/11 frayed.
As President, I've worked to renew the global cooperation we need to meet the full breadth of global challenges that we face. Through a new era of engagement, we've forged partnerships with nations and peoples based on mutual interest and mutual respect.
As an international community, we have shown that terrorists are no match for the strength and resilience of our citizens. I've made it clear that the United States is not and never will be at war with Islam. Rather, with allies and partners we are united against al Qaeda, which has attacked dozens of countries and killed tens of thousands of innocent men, women and children — the vast majority of them Muslims. This week, we remember all the victims of al Qaeda and the courage and resilience with which their families and fellow citizens have persevered, from the Middle East to Europe, from Africa to Asia.
http://weaselzippers.us