11 September 2011
9/11 vigil for Muslims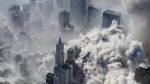 Up to a few hundred Canadian Muslims are expected to turn up at a candlelight vigil tonight in downtown Vancouver to mark the tenth anniversary of 9/11 - or what Muslims refer to as a "black day" for their religion worldwide



The vigil, to be held at the Vancouver Art Gallery at 7: 30 p.m., will not only reflect upon the innocent lives lost in New York on that fateful day, but also look at the mistreatment of Muslims in the 10 years since, says Imtiaz Popat from the Canadian Muslim Union and Siraat Collective.
"Of course, we are saddened by what happened in New York, but at the same time we are also sad at what has happened as a result of that," he said Saturday.
Popat says Canadian Muslims have been victimized since 9/11 - more so immediately following the attacks - with innocents being placed on no-fly lists and associated with terrorism.
Popat likens the Muslim's treatment with that of Japanese-Canadians during the Second World War.
Popat also says the Homeland Security Act in the United States continues to victimize Muslims.
mraptis@theprovince.com


Read more: http://www.theprovince.com/vigil+Muslims/5384551/story.ht...