07 September 2011
Islamicism' Canada's Biggest Threat: PM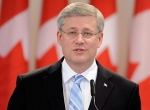 CAIRO – Canadian Prime Minister Stephen Harper believes that "Islamic militancy" poses the biggest threat to Canada.
"There are a number of threats on a number of levels, but if you are talking about terrorism it is Islamicism," Harper said in an interview with the CBC, to be broadcast on Thursday, September 8.
"That is the one that occupies the security [establishment] most regularly in terms of actual terrorist threats."
The interview comes as the United States marks the 10th anniversary of the 9/11 attacks.
Harper said that Canada is safer now than it was during the 9/11 attacks.
However, he said, "the major threat is still Islamicism."
"When people think of Islamic terrorism, they think of Afghanistan, or maybe they think of some place in the Middle East, but the truth is that threat exists all over the world."
Harper said the threat of terrorism is diffused across the globe, citing a recent attack on a UN headquarters in Nigeria.
And in Canada, "homegrown [Islamic] terrorism is something we keep an eye on."
Muslims make around 1.9 percent of Canada's 32.8 million population, and Islam is the number one non-Christian faith in the Roman Catholic country.
A survey has showed the overwhelming majority of Muslims are proud to be Canadian.
Terror Laws
The Canadian premier also hinted that his government would re-introduce anti-terror laws that were scrapped four years ago.
"We think those measures are necessary," Harper told CBC.
"We think they've been useful.
'And as you know … they're applied rarely, but there are times where they're needed."
Following the 9/11 attacks, the Canadian parliament passed tough laws to fight terrorism.
Under one provisions of the laws, police had the power to arrest suspects without a warrant and detain them for three days without charges.
Another provision allowed a judge to compel a witness to testify in secret about past associations or perhaps pending acts under penalty of going to jail if the witness didn't comply.
In October 2006, a parliamentary committee recommended extending the two provisions after their expiry.
In 2007, opposition parties rejected a proposal by the Conservatives to keep the measures in place for three more years.
The rest of the legislation remained in force.
When asked if he would try to bring those laws back, Harper replied: "That is our
http://www.onislam.net/