28 August 2011
Three beaten by alleged FPI members, accused of being drunk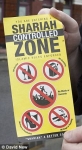 Three youngsters, who were hanging out on Jl. Matraman Raya in East Jakarta on Saturday at around 2:00 a.m., were beaten up by a group of men who said they were members of the Islam Defenders' Front (FPI), as the
youngsters were apparently found drunk.
The incident occurred when the group were traveling en route to attend an event at the National Monument in Central Jakarta.
"When they [the FPI members] passed a gas station, they spotted the youngsters who were hanging out. They approached them because they assumed the youths were drunk," Cempaka Putih crime unit detective head, Adj. Comr. Gonjali Ruhulima, said Sunday as quoted by tribunnews.com.
The teenagers fought back against the group. They suffered injuries as they were outnumbered by their attackers. The youngsters were later taken to a hospital for treatment.
During Ramadhan this year, FPI members, notoriously known for violence against minority groups, have been involved in a string of violent acts, including an attack upon a local Ahmadiyah community in Makassar, in which a local mosque was damaged and two Ahmadis seriously injured
http://www.thejakartapost.com/