25 August 2011
The enemy among us" is the Muslim Brotherhood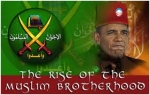 For years, the Muslim Brotherhood, through its many front organizations in the U.S., has engaged in what it calls "civilization jihad," an influential campaign of

information warfare designed to deceive and co-opt elected officials, law enforcement officials, academics, and the media.

I can't begin to tell you the stories of how successful this information warfare has been. Stories that include people losing their jobs, even at the Pentagon, because they dared to tell the truth about radical Islam.

Or how leaders from a handful of Muslim Brotherhood front organizations, organizations named as unindicted co-conspirators in the Holy Land Foundation terrorism trial, are advising President Obama on Middle Eastern affairs.

America is beginning to wake up to the threat of sharia law. Now America must wake up to the threat of the Muslim Brotherhood.

This is why ACT! for America has designed a resource-rich "tool kit" to help you understand the in's and out's of the Muslim Brotherhood threat, AND give you the tools to educate your friends and family.


We call this new resource "Unmasking the Enemy Among Us:


Information Warfare and the Muslim Brotherhood."

We have never made such a resource on the Muslim Brotherhood available before. Today, we are offering it to those who choose to become a Patriot Partner to ACT! for America, making a monthly gift of only $19. Simply log on here, choose the Patriot Partner option, and select the $19 gift level.


The first 400 people who respond to this offer will not only receive the invaluable resources described below, they'll also receive a bonus—an autographed copy of my best-selling book

They Must Be Stopped—as an extra "thank you" from me for your support.

In this one-of-a-kind "tool kit" you will find:


•
A DVD containing two powerful and informative presentations.



The first, "Connect the Dots: Information Warfare 101," is a Power Point presentation featuring ACT! for America Executive Director Guy Rodgers. As those who have attended our conferences or other public events know, Guy is a very engaging speaker who is well-versed in the connections between the ideology of radical Islam, information warfare, and terrorism.




The second is entitled "The Outlawed Brief."



This Power Point presentation is conducted by former FBI counter-terrorism expert John Guandolo. John was a featured speaker at our 2011 National Conference and Legislative Briefing, and many attendees told our staff their only complaint was that John didn't have two hours instead of one! John is one of America's leading experts on the Muslim Brotherhood, and even if you are already knowledgeable in this area, I guarantee there will be new information for you in this presentation.






Never before have these two presentations been made available together on a DVD.

I can assure you, what you will learn from these two presentations, and what you can share with others, will be invaluable.


•
We also include in this kit the English translation of the Muslim Brotherhood's "Explanatory Memorandum," the document that calls for "civilization Jihad" against America which was entered into evidence at the Holy Land Foundation terrorism financing trial.


•
But that's not all. The kit also includes "Sharia Law for Non-Muslims," an invaluable booklet that breaks down sharia law by topic areas for easy use.
These three resources will educate and empower you and awaken and enlighten your friends and family. But there's more.You'll also receive two of our brand-new bumper stickers—and for the first four hundred people who respond to this offer, we'll throw in an autographed copy of my bestselling book They Must Be Stopped.

All we ask is that you become a Patriot Partner and make an online, monthly commitment of $19. Simply log on, select the Patriot Partner option, and select the $19 monthly gift level.

This is only 63 cents a day—less than a cup of coffee at a convenience store like 7-11.


If you're already a Patriot Partner, simply increase your monthly commitment by $15 or more.

Log on here; select the Patriot Partner option; click on the "I would like to update an existing recurring gift" option; at the lower right of the page enter the new amount you will give each month, which will equal your current monthly gift plus an additional $15 or more, and put "Muslim Brotherhood resource" in the "Memo" box.

Patriot Partners are the financial backbone of ACT! for America. Our growth and our increasing number of successes are due in large part to our faithful monthly contributing Patriot Partners. The fact is, we wouldn't be where we are without our Patriot Partners. They are that important.

That's why I'm asking you to join us as a Patriot Partner today. As our thank you, we will ship you our new, never-before-released resource, "Unmasking the Enemy Among Us: Information Warfare and The Muslim Brotherhood."

The Muslim Brotherhood, and its many front organizations such as CAIR, ISNA, and the MSA, don't want you to have this "tool kit." They want to keep as many Americans ignorant as possible, while they continue their stealth jihad and information warfare aimed at co-opting political, law enforcement, media and academic leaders.

We have spent months putting this package together so you can have an information-packed resource that is compelling, engaging and easy to use. If you've ever wanted to learn more about information warfare and the Muslim Brotherhood, or wanted a resource to enlighten others, this is for you!

I hope that you take advantage of this offer and become one of our valued Patriot Partners today!

Thank you.

Always devoted,



Brigitte Gabriel