23 August 2011
Italy: Bigamist immigrant's wife reports husband over rival spouse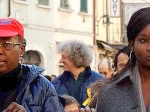 (AKI) - The second wife of a longterm Muslim immigrant in Italy has reported her husband to police after authorities allowed his first wife to join the household in the northern city of Treviso from Senegal.
The 45-year-old immigrant's second wife, who has twin daughters of eight with him reportedly cannot countenance living with him, his second wife and their two sons of 15 and 16 with his first wife.
The man, who has lived in Italy for over a decade, runs little risk of prosecution for bigamy, however.Under Italian law, bigamist long-term immigrants are allowed to bring more than one wife to live with them in their adoptive country provided they are 'integrated'.
http://www.adnkronos.com/IGN/Aki/English/Religion/Italy-Bigamist-immigrants-wife-reports-husband-over-rival-spouse_312374953540.html