20 August 2011
Man questions prayer call in McDonald's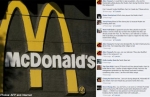 man who raised a question on why a McDonald's outlet was playing prayer calls for Muslims to break fast has been slammed by netizens on Facebook.
Alex Chang posted a comment on the McDonald's Facebook fanpage at 9pm on Wednesday, asking: "Why are McDonald's outlets playing the Muslim chant during dinner time in the restaurants?"
He was reportedly dining at a McDonald's outlet in Toa Payoh.
The Azan, or Muslim prayer call, is played in the evenings to mark the break fast time for Muslims in Singapore.
A reader, known only as 'SirAlexFerguson', wrote in to AsiaOne: "Living in Singapore, he should understand different cultural beliefs. Each culture should tolerate each other."
Mr Chang, who according to netizens is an employee of SingTel, has subsequently apologised by leaving a comment on the fastfood restaurant's fanpage.
McDonald's clarified in a written statement that the prayer call is not part of the company's initative, as they have a standard list of music and radio stations the restaurants are supposed to be using.
"We have heard feedback that a small number of restaurants may have tuned in to other radio stations and we have reminded them to keep to the standard playlist and selection," said the statement.
McDonald's has since removed inappropriate comments from the thread.
http://www.asiaone.com