17 August 2011
Toronto religious leader charged in sex assaults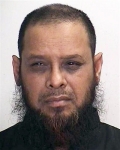 Members of a Scarborough mosque have expressed shock and disbelief that their "nice" and "humble" religious leader has been charged with a string of sexual assaults.
Mohammad Masroor, the imam at the Baitul Mukarram Islamic Society on Danforth Ave., faces 13 charges involving sexual offences and death threats relating to five alleged victims.
Police said Masroor, 48, travelled the world before settling in Toronto in 2008, and believe there could be more victims, here and abroad.
Abdur Rouf Tarafdar was one of more than a dozen people who vouched for Masroor's pious character as he left afternoon prayer on Wednesday.
"I know him. Behind him I pray," he said.
Abdul Fattah Aboud, an imam at the Baitul Aman Masjid mosque a few blocks away, said the father of five used to wave as he passed by on his way to prayer.
"Is it possible? Someone like him?" he said. "He's a very well respected person in the community."
Det. Const. Karen Armstrong said Masroor used his position of leadership "to his advantage." She said Masroor, who teaches in the mosque as well as in private homes, knew the alleged victims.
Masroor was arrested Aug. 10 after a three-week investigation that is still ongoing. The assaults allegedly occurred between Nov. 1, 2008 and July 28, 2011.
"The victims are both male and female," Armstrong said. "We believe there are other victims as (the accused) has lived and worked worldwide."
Masroor taught in Florida, Michigan and Bangladesh before coming to Canada, according to police. He has also lived and taught in Germany, France, Hungary, Singapore and Sri Lanka but police said the investigation is not limited to those areas.
Toronto investigators have yet to speak with foreign police forces about the case, Armstrong said.
Members of the mosque were especially upset that the allegations come during the holy month of Ramadan, when Muslims fast during daylight hours.
"For a Muslim, this is very shameful. We really condemn it," said Muti Mughal. "I still don't believe it."
Police said Masroor is being held in custody, and that a publication ban is in place.
http://www.thestar.com