06 August 2011
Sudan: Christian Girl, 16, Escapes Muslim Kidnappers After Multiple Rapes, Beatings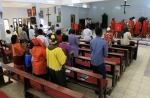 Another forced conversion attempt of a 'slave' by Sudanese Muslim kidnappers – and all the usual hallmarks are there. Teenage girl – check. Rape – check. Severe and sustained beatings – check. Read the truth about Islamic rape Jihad, as one teenage victim recounts her story after an horrific ordeal earlier this year:
Hiba Abdelfadil Anglo, 16, has escaped from a gang of Muslims who kidnapped her last year, but it may be a long time before she recovers from the trauma.
As she told Compass how the kidnappers beat, raped and tried to force her to convert from Christianity to Islam, she broke into tears for nearly half an hour.
"They did many bad things to me," she said, tears streaming down her eyes.
Abducted on June 17, 2010, she was reunited with her family on July 10.
"Several times I was warned that if I do not convert to Islam, then I risk losing my life," she said. "The man who put me in his house on several occasions tortured me and threatened to kill me. He did not allow me to pray Christian prayers. He even insulted my family as a family of infidels."
Hiba said that after a year of captivity, she had given the unidentified man who housed her enough of an impression that she had converted to Islam and accepted her fate that he left her unguarded. She was able to leave the house in the Soba Al Aradi area south of Khartoum and beg a motorist to take her to her home two hours away, she said.
"I had tried to escape three times before, but they captured me every time and beat me a lot," she said, sobbing.
Her widowed mother, Ikhlas Omer Anglo, told Compass the kidnappers targeted them because they are Christians, members of Sudan Presbyterian Evangelical Church in Khartoum. The girl's mother said that when she went to a police station to open a case, officers told her she must first leave Christianity for Islam.
"Right after my daughter was kidnapped, one officer told me, 'If you want back your daughter, you should become a Muslim,'" she said. "I thank God for enabling my daughter to escape before the start of Ramadan, though she is now traumatized."
Hiba said the kidnappers moved her to various locations in Khartoum over the initial eight months, threatening to kill her if she tried to escape.
"Even if you call the government, they will not do anything to us,'' her abductors warned her, she said.
She was initially locked in a room and beaten until she was unconscious. The leader of the group raped her, and she is still suffering pain in her right eye from a blow he recently dealt her, she said.
"Apart from abusing me sexually, he tried to force me to change my faith and kept reminding me to prepare for Ramadan," she said. "I cannot forget this bad incident, and whenever I try to pray, I find it difficult to forget. I ask believers to pray for me for inner healing.'
"O Prophet! Lo! We have made lawful unto thee thy wives unto whom thou hast paid their dowries, and those whom thy right hand possesseth of those whom Allah hath given thee as spoils of war, and the daughters of thine uncle on the father's side and the daughters of thine aunts on the father's side, and the daughters of thine uncles on the mother's side and the daughters of thine aunts on the mother's side who emigrated with thee, and a believing woman if she give herself unto the Prophet and the Prophet desire to ask her in marriage a privilege for thee only, not for the [rest of] believers. We are aware of that which We enjoined upon them concerning their wives and those whom their right hand possess that thou mayst be free from blame, for Allah is Forgiving, Merciful." Qur'an 33:50
As regular readers will know, there is a common pattern of abuse by Muslim kidnappers of non-Muslim women and girls, wherever Islam dominates or is on the rise. These women are seen as fair game – because Islam says they are fair game.
And nothing is ever done about it. Because Islam-enamoured journalists – whose job it is supposed to be to report news – deliberately suppress it or dismiss it as 'isolated incidents™'.
It is only because of organisations like Compass and ICC that we in the West ever get to hear of the horrors meted out to the vulnerable, under the supremacist cosh of the doctrine of Islam. Read about their invaluable work and consider making a contribution.
The Muslim kidnappers who perpetrate these hate crimes are not composed of the much vaunted 'tiny minority' of terrorists', 'radicals', or 'extremists' – they are ordinary Muslim men.
Welcome to the truth about Islam.
[Source: CDN]