03 August 2011
Seven killed in twin west Iraq blasts: police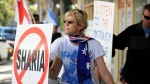 BAGHDAD — Twin bomb attacks in the western Iraqi city of Ramadi killed seven people and wounded 13 others on Wednesday evening, part of nationwide violence that left 10 dead, security officials said.
A second bomb went off as people gathered to help the wounded, the policeman said, adding that the two blasts killed seven and injured 13.
Also on Wednesday, gunmen attacked a checkpoint in Mosul in northern Iraq, shooting dead two soldiers, according to a military officer who did not want to be named.
An interior ministry official also said that one Iraqi policeman was killed and three Iraqi translators wounded in a bomb attack on the Al-Rusafa prison complex in Baghdad.
Late Tuesday, meanwhile, successive bombings targeting an alcohol shop in Baghdad's western outskirts killed three policemen.
The blasts also left 14 other people wounded, including three policemen, the interior ministry official said, speaking on condition of anonymity.
Meanwhile, unidentified gunmen on Tuesday evening shot dead Iraqi army Lieutenant Colonel Azad Mohammed Ahmed in the south of the disputed northern cit of Kirkuk while he was driving home with one of his guards.
Violence in Iraq has declined from its peak in 2006 and 2007, but attacks remain common. A total of 259 Iraqis were killed in attacks in July, the second-highest figure for 2011.'
http://www.google.com