29 July 2011
Church Web sites hacked to push conversion to Islam
Cyber attack targets Perrysburg host's clients
A computer hacker took control of more than a dozen church Web sites hosted by a Perrysburg designer this week, replacing their regular content with an appeal that Christians convert to Islam.
The Rev. Vinnie Dauer of Fallen Timbers Community Church in Waterville said he received a text message from a church member at about 6:30 p.m. Tuesday telling him someone had posted "Muslim propaganda" on the church's Web site.
The cyber attack surprised church leaders there, who wondered why anyone would target their small congregation's Web site.
"It was unnerving, but I think also it was an indicator to me of the different world we live in," said Mr. Dauer, the assistant pastor at Fallen Timbers. "No one could walk into this church building and put up propaganda that's contradictory to our belief system, but yet our Web site is a representation of who we are."
The Fallen Timbers site was quickly taken down by Ryan Leisure, whose Web company, R Leisure Enterprises, designs and hosts sites for about 60 churches across the country. Of those, 18 came under attack, some as far away as Texas and California.
Mr. Leisure, himself a member of Fallen Timbers, said his primary work comes from private businesses, but as a Christian he wanted to do something to help smaller churches reach out to their communities.
The hacker, who identified himself as a Muslim hacker and signed his work "Mr. HAiL," somehow gained access to Mr. Leisure's entire portfolio of sites, though only the church sites were altered.
"It seemed like he was clearly trying to convert people. I don't see how he could actually be successful with this, but he was talking about Christians converting to Islam," Mr. Leisure said.
The hacker deleted the church Web sites and replaced them with a photograph of Mecca, a few paragraphs about Islam, and a list of 12 other Web sites purportedly containing more information about the faith. The postings didn't include any inflammatory language against Christians.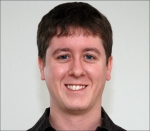 Ryan Leisure, a Perrysburg-based Web designer, told the FBI about the hackings.
Enlarge
Despite the fairly benign nature of the hacking, both Mr. Leisure and leaders from the affected churches were concerned about it.
"It's a little alarming that just the churches were getting targeted by it," Mr. Leisure said. "The churches that did contact me were panicking a little bit."
After he took down the hacked Web sites, Mr. Leisure called the FBI's Toledo office to report the offenses. He said he was directed to file a report on ic3.gov, a Web site used by the FBI to gather information on and track cyber crimes.
"I can't confirm we've opened a case, but certainly if he made that complaint they'll review it and take whatever action they deem appropriate," said Special Agent Scott Wilson, a spokesman for the FBI in Cleveland.
Mr. Wilson said he was not aware of any similar incidents reported within the Cleveland district's jurisdiction, though hacking and online scams have become an almost daily issue for the FBI. Cyber crimes, he said, are the bureau's third priority behind terrorism and foreign counter-intelligence.
With new scams, viruses, hackings, and data-mining attempts cropping up all the time, Mr. Wilson said it's important for people to report what they've seen and experienced in order to make the authorities aware of the developments.
Mr. Leisure said all the hacked sites had been backed up within the last month, and he was able to restore nearly all the information. He's changed the passwords, is backing up the sites more frequently, and has looked into additional security measures.
Mr. Dauer, at Fallen Timbers, said he's confident the site will be secure in the future. He said it was "a little scary" that someone may have stumbled on the church's site and seen something different from what the church represents. Still, Web sites and social media have become major ways for churches to reach out to members and keep them up to date on church happenings.
He doesn't see that changing: "If we had to choose between a phone number and a Web site, I'd choose a Web site."
Contact Tyrel Linkhorn at: tlinkhorn@theblade.com or 419-724-6134.
http://www.toledoblade.com