26 July 2011
Islamic terror group harboured by finland promises Russia 'ayea of blood&tears'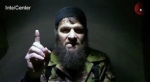 Moscow's most wanted Islamist militant Doku Umarov warned that Russia would be the target of a newly strengthened insurgency in a video posted on an Islamist affiliated website on Monday.
A decade after federal forces drove a separatist government from power in Chechnya, Moscow is struggling to contain an insurgency that seeks to carve an Islamic state out of Russia's North Caucasus region.
Chechen-born Umarov, 47, claimed responsibility for masterminding the January suicide bombing of Moscow's Domodedovo airport, which killed 37.
He has also promised a year of "blood and tears" for Russia ahead of parliamentary elections in December and a presidential poll in 2012.
Security will be a main priority leading up to the elections for both President Dmitry Medvedev and Prime Minister Vladimir Putin, who led the country into a second devastating war against Chechen rebels in 1999.
In the 17-minute-long video Umarov, who styles himself the Emir of the Caucasus, says his insurgency has been strengthened by overcoming recent divisions that saw three high-level militants split from his Caucasus Emirate last year.
"We want to assure you that our jihad is starting a new chapter, inshallah," he said wearing camouflage and an Islamic skullcap and sporting his trademark ginger beard in the video posted on Kavkaz Center www.kavkazcenter.com.
"We are calling on all mujahideen in the Caucasus and in other territories so that all differences stay in the past and that all our strength, will and power is directed at attesting to the word of Allah and against our enemy."
At the end of the video he embraces the high-ranking militants – Hussein Gakayev and Aslambek Vadalov – who had split with Umarov.
Their allegiance to Umarov will likely consolidate authority within the insurgency, which has suffered from divisions and power struggles.
The United States has offered a $5 million reward for information leading up to the arrest of the militant.
The third militant who had renounced allegiance to Umarov was killed by security forces in April.
"I use the word terrorist. They use the word President," Finnish Christian Priest Juha Molari
The real story behind this piece is not really the threat of Jiahd against Russia in the Caucasus, but the surprising role of an EU member state in facilitating and enabling those who are making the threats.
As we have reported in the past, Finland openly hosts the Kavkaz Center, the propaganda arm of the Chechen terrorists led by Umarov; the same Islamist group who brought you the Beslan atrocity and the deadly Moscow theatre siege, Metro and airport blasts.
It also persecutes Finnish Christian Priest Juha Molari – who has been on the receiving end of threats and faces being defrocked for speaking out against Doku Umarov and his Kavkaz Center mouthpiece.
Through the good offices of the Finns, instead of its members languishing in jail for promoting Islamic terrorism, their website is hosted there and they enjoy modern, comfortable offices in downtown Helsinki.
As the left and the media luxuriate (it will be short-lived) in the news that, for a change, the latest terrorist atrocity in Europe was carried out not by the usual (Islamic) suspects, but by a lone-wolf lunatic who held anti-Islamic views, this story will be, to all intents and purposes, ignored or buried.
But in their rush to make equivalence and build guilt-by-association between the actions of the likes of Anders Behring Breivik and, well, pretty much anyone who criticises Islam; the media and political élites merely stoke further the frustrations of ordinary Europeans – who (unlike them) have to live with the consequences of mass Islamisation and state enforced multiculturalism every day.
Not to mention those of Russia.
[Source: Hürriyet Daily News]