20 July 2011
2nd Muslim charged in whipping attack in Australia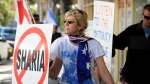 SYDNEY (AP) — A second Muslim man was charged Wednesday in connection with an attack on a recent convert to Islam who was allegedly whipped 40 times as a religious punishment for drinking alcohol
Wassim Fayad, 43, was freed on bail after being charged with aggravated breaking and entering with intent to commit an indictable offense. The same charges were laid against Tolga Cifci, 20, on Tuesday. Neither man has entered a plea.
In granting bail, Magistrate Tim Kebby ordered Fayad to stay away from the alleged victim, saying the attack was "quite particular, arising from religious motivation."
The incident has created a furor in the Australian media, reflecting the friction caused by the expanding Islamic migrant community in a country whose citizens are predominantly of Christian European background.
Australia relaxed its immigration policies in 1973 when it opened its doors to nonwhites, attracting a flood of immigrants from South Asia, the Middle East and Africa.
Prime Minister Julia Gillard weighed into the debate Wednesday, telling reporters there is no place for religious punishments in Australia.
"There is only one law in this country — the law of Australia. That's what binds us together and everybody has got to abide by that law," she said.
Fayad and Cifci are among four people who are accused of breaking into Christian Martinez's house on Sunday, holding him down on his bed and whipping him 40 times with an electric cord. The court was told that Martinez, a recent convert to Islam, was targeted for "religious reasons."
Islamic Sharia laws, which prohibit alcohol, recommend whipping as a punishment for several offenses.
Fayad was held in custody since being arrested on Tuesday after he surrendered at a police station in a Sydney neighborhood.
The court heard that Martinez was known to Fayad, which his lawyer Avni Djemal said raised questions about the charge of breaking and entering.
"There is an issue ... as to whether they were let in or forced their way in," he said.
He acknowledged that the case against his client had become a "matter of some controversy."
"It would not be remarkable but for the motivations," he said.
No trial date has been set pending investigations. If convicted, the two could face up to 20 years in prison.
Martinez, 31, was allegedly whipped for 30 minutes but did not need hospitalization. Local media have reported that the alleged attackers attended the same mosque as Martinez, and administered the lashing as a punishment for going to a pub.
Cifci, a Muslim, was born and raised in Australia. Fayad's background is not immediately known, except that he is married and has six children.
Djemal said Fayad works two jobs and does not have a history of violence
http://www.google.com/