16 July 2011
Schoolboy killed and 'religious teacher' held in South-related violence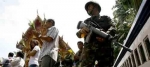 The shooting took place at the market in Ban Klang village in tambon Ban Klang, Panare district at 6.30am
Worapoj Daengsuk, 16, a Mathayom 5 student of Thakham Witthayakhan School, was killed, while village headman assistant Narong Yodsri, 51, and village defence volunteer Charoen Pansrikaew, 59, were injured.
According to police, Worapoj and his mother Nonglak were shopping for food when two men on a motorcycle arrived. The pillion rider followed Worapoj before shooting him in the head and then opening fire on the nearby crowd.
Police suspect a personal conflict or an attack by southern insurgents on a Buddhist religious day as the motive.
Pattani Governor Nipon Narapitakkul said that he believed the attack was a result of the region's unrest, where insurgents harm Thai Buddhists to incite disunity and distrust between Thai Buddhists and Muslims in Panare district, which is made up of 60 per cent Buddhists and 40 per cent Muslims.
More than 4,500 people have been killed and nearly 9,000 wounded in the three southernmost provinces since the separatist violence started afresh in January 2004.
In related news, a Cambodian Muslim man was arrested along with some video clips of alleged arms training and war violence at the Sa Kaew province border checkpoint yesterday, as Thai authority suspected he might be involved in the southern unrest.
Saying that he was a religious schoolteacher in Kampong Cham who obtained a bachelor degree from a Malaysian college - namely Kojet Jaiputra - Abdullah Bin Umar, 27, told Thai officers that he wanted to go to Malaysia through Narathiwat's Sungai Kolok district to pick up his wife amd go back to living together in Cambodia's Kampong Cham province. The man is currently detained for further interrogation at the 1206th ranger unit.
Privacy Policy (c) 2007 www.nationmultimedia.com Thailand
1854 Bangna-Trat Road, Bangna, Bangkok 10260 Thailand.
Tel 66-2-338-3000(Call Center), 66-2-338-3333, Fax 66-2-338-3334 ,E-mail: customer@nationgroup.com
http://www.nationmultimedia.com