09 July 2011
High school dropout convicted of trying to join terrorist group so he could kill U.S. troops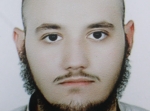 A Brooklyn high school dropout was convicted Thursday of conspiring to join a foreign terrorist group so he could kill U.S. troops in Afghanistan.


Betim Kaziu faces life in prison for the jihadi adventure that took him to Saudi Arabia, Egypt and finally Kosovo - where he was arrested in 2009.

The jury deliberated less than four hours before reaching a verdict in the two-week trial in Brooklyn Federal Court.

Kaziu smiled and waved to his parents, who emigrated from Macedonia.

"I need my son home," Kaziu's father said outside court.

Kaziu, 23, wanted to become a member of the Taliban or the Somali-based Al Shabbab so he could die a Muslim martyr on a battlefield in Afghanistan, Pakistan, Palestine or Africa.

"The defendant desired to wage jihad," Assistant U.S. Attorney Ali Kazemi said in his closing argument.

"He never intended to return to the United States. He hoped to die a martyr. "

Flush with cash from a court settlement for a playground accident, Kaziu traveled overseas with a buddy from Mill Basin who chickened out of the scheme and returned to Brooklyn to eventually became a government cooperator.

Defense lawyer Joshua Dratel argued that a trove of militant videos - including some from hate-spewing Osama bin Laden and Anwar Al-Awlaki - found on Kaziu's laptop computer don't make him a terrorist.

"Millions of people watch these videos and don't fight jihad," Dratel said.

Kaziu had made a so-called martyrdom video in Albania before he was arrested.

"I came here with the brothers to chill before I, God willing, depart," Kaziu said as he stood on a cliff above the sea.

Read more: http://www.nydailynews.com/news/ny_crime/2011/07/07/2011-...