15 June 2011
Canadian woman seeks help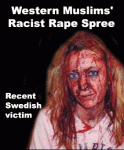 RIYADH: The mother of a Canadian woman allegedly forced to remain in Saudi Arabia for the last six years with her three young children has sought urgent support from Saudi and Canadian governments to end her daughter's ordeal and send her back to Canada as soon as possible.
Johanne Durocher said the plight of 27-year-old Nathalie Morin had become more urgent when police in Dammam arrested her on June 6 after she stepped out of her house to buy some food and provisions.
"The Canadian embassy is in touch with Morin and the embassy is providing consular advice to the woman," said Sidney Fisher, a spokeswoman of the Canadian mission, here Monday.
Fisher could not divulge more details of the case, citing restrictions on information sharing about individuals as per Canadian privacy laws. It was not clear whether Morin is currently under police custody or has been released. According to a report, Morin was told after detention in Dammam that she would face a charge in the court for trying to kidnap the three children of Saeed Al-Shahrani, who is her husband.
"This is an attempt to terrify and further harass my daughter, who has already broken down" said Durocher in an e-mail sent to Arab News on Monday night.
"I have been told that two representatives of the Canadian Embassy will visit Morin in Dammam shortly and they will also meet with the police officers to know about the charges being faced by my daughter," said Durocher. Morin married Al-Shahrani, a citizen from Bisha, after they became intimate friends several years ago in Canada.
According to reports, Morin, who was grilled by the police for two-hours, was told that she would be charged with kidnapping her three children, aged two, four and eight, because she was trying to leave the apartment while her husband was away.
The charges are being vehemently denied by Morin's mother, who is waging a public battle to repatriate her daughter and grandchildren back to Canada. Durocher said that it was urgent for Morin to leave Saudi Arabia.
Referring to the case of Morin, her mother said she was arrested as she left the apartment to get water and food for her children after her husband left them locked up for two days with very few supplies.
Arab News tried to reach Al-Shahrani on a cell number given by a source, but the phone was switched off. According to reports, Al-Shahrani has admitted to the police that the apartment where Morin was living in was tapped and under surveillance.
"This is how he (Al-Shahrani) discovered that Morin was going to leave the apartment," said a press statement posted on the website of Nathalie Morin's Support Group (www.nathaliemorin.org).
Durocher, who has briefly spoken to her daughter via telephone, sought urgent support from Saudi officials to rescue her daughter. Canada's Quebec National Assembly will also hear a motion on Friday to press the Harper government into helping Morin and possibly secure her release.
Morin, meanwhile, told a local newspaper, that she tried to visit the Canadian Embassy in Riyadh but was unable to. Morin added that her mother also stopped three weeks ago the weekly $200 she provided as allowance.
Morin said her mother had also asked her to get in touch with activist Wajeeha Al-Huwaider to take up her case. She said her mother had met Al-Huwaider in the US and had developed contacts through e-mails.
Morin said she got acquainted with Fowziya Al-Ouyuni, another activist, following a meeting at a commercial center in Dammam. "She gave me a cell phone and SR300," she said, adding that the two activists used her issue to serve their vested interests. She said she got in touch with the two activists after they promised they would solve her problem.
http://arabnews.com