14 June 2011
Kidnapped Pakistani Christian may be sold abroad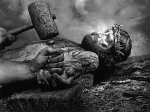 Pakistani Catholic sources have told the Fides news agency that a 24-year-old Christian woman who was kidnapped, forced to convert to Islam, and forced to marry a Muslim may soon be sold abroad.
Farah Hatim, 24, "was forced to sign a declaration stating that she had converted and married [according] to her will," said a Pakistani nun. "The text was brought to the police and in court, so legally the case is considered closed. It will be possible to reopen it only with a written statement, in which Farah testifies that these communications were drawn out by threats and torture."
The nun called for prayer and international pressure to help secure Hatim's releases.
There are over 700 cases of forced conversion to Islam in Pakistan each year, according to Fides.
http://www.catholicculture.org