19 May 2011
More than 50 US churches will invite Muslim clergy to hold Quran readings Continue reading on Examiner.com: More than 50 US churches will invite Muslim clergy to hold Quran readings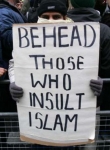 More than 50 US churches will invite Muslim clergy to hold Quran readings. As part of a trend in the US that seeks to foster tolerance for the "religion of peace" called Islam, dozens of churches are intent on holding Quran readings in the next



month. The plotters behind this latest scheme of pro-Islamic tolerance are Human Rights First and the Interfaith Alliance. The head of the Interfaith Alliance is the Reverend Welton Gaddy, who is a staunch and hardcore left-winger. Human Rights First is itself a definite liberal organization, though it masquerades as an altruistic organization that is concerned with the upholding of human rights around the world. Both organizations are intent on having Christians grovel in deference to Islam.
June 26 is the date that has been set aside as the day for this liberal-promoted initiative, which is being referred to as "Faith Shared: Uniting in Prayer and Understanding." The questionable, at best, plan dreamt up by the liberal organizations is to make US churches throw open their doors to Muslim imams, who can then read from the "sacred" texts of the "Holy" Quran. The whole point of this initiative, again, according to the two liberal groups spearheading this politically correct and accommodationist exercise, is to demonstrate some form of respect for the "religion of peace," especially in light of the lone incident of Quran burning by Pastor Terry Jones, which took place in March.
This initiative—without a doubt—is absolute and indisputable political correctness and perverse misguidedness, to say the least. What the Interfaith Alliance and Human Rights First are plotting to do is basically shame the Christian religion and the participating churches in the US by establishing the falsehood that Christianity somehow has to all of a sudden prove that it is a tolerant religion!! How dare they! Christians in the US and anywhere else in the world are not under any pressure to show that they are not bigots because it is clear that they are not. Ironically, if it is any religion that has to prove that it knows at least a tiny, little bit about tolerance and open-mindedness…it is without a doubt Islam! When you look at all the killing, terrorism and beheadings being done in the name of the "religion of peace," it is clearly that religion that has to convince many people the world over of its peaceful leanings (which will be hard if not impossible to do).
It has to be pointed out just who exactly is behind this perverse and completely twisted-around premise, because it makes no sense whatsoever. It brings to mind the title of Michael Savage's immortal book, "Liberalism is a Mental Disorder." The Interfaith Alliance is led by Reverend Welton Gaddy, who has a weekly radio show that used to be heard on…Air America! Air America is of course the bankrupt and utterly unsuccessful radio network that featured nothing but liberals and progressives, which is precisely why it bombed so disastrously. Because hardly anyone wants to hear the very unpopular opinions of liberals…that's why! Human Rights First is an organization that has aggressively rejected virtually every post-9/11 security measure to protect the US from Muslim terrorists.
When this initiative occurs on June 26, it will be massively comical to hear the visiting Muslim clergy read passages from the Quran that are full of anti-Christian sentiment. As JihadWatch points out, some passages in the Quran declare that those who believe that Christ is the Son of God (read: all Christians) are accursed and deny that Christ was ever crucified. Good luck to those more-than-50 churches that will be part of this politically correct exercise…they will need it.
Copyright © 2011 by Marc Schenker
Like Marc's analysis? To subscribe to Marc's columns: Click on the "Subscribe" button below the headline.
To send Marc questions, praise or criticism, you can email him at marc_schenker@telus.net


Continue reading on Examiner.com: More than 50 US churches will invite Muslim clergy to hold Quran readings - Vancouver American Politics | Examiner.com http://www.examiner.com/american-politics-in-vancouver/mo...