16 May 2011
Thai bomb attack in south kills 2buddhist monks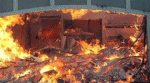 PATTANI, Thailand -- Thailand's army says suspected Islamic insurgents set off a roadside bomb in the country's restive south, killing two Buddhist monks.



Army Maj. Gen. Akara Tiproj says two soldiers were also wounded in Monday's attack in the Muslim-dominated province of Yala.
More than 4,200 people have been killed in predominantly Buddhist Thailand's three Muslim-dominated southern provinces since an Islamist insurgency erupted here in 2004.


Read more: http://www.sacbee.com/2011/05/16/3629168/thai-bomb-attack...