06 May 2011
Man sentenced to life for killing 5 family members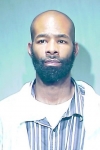 Prosecutors say he was angry they wouldn't convert to Islam
A man who was angry that his family would not go along with his conversion to Islam was sentenced to life in prison Wednesday in the slayings of his mother, pregnant wife, infant son and two nieces in a rampage last year on the South Side.
James A. Larry, 33, of Madison, Wis., pleaded guilty last month to multiple counts of murder, attempted murder and the intentional homicide of an unborn child.
The bald, bearded defendant issued a quiet apology in Judge James Linn's courtroom, as several surviving members of the family stood at a podium and clutched one another.
http://articles.chicagotribune.com