29 April 2011
Iranian native claims bridge harassment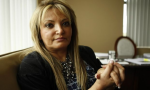 Customs investigating Amherst driver's claim
Sherri Arbabzadeh, of Amherst, was entering the United States at the Rainbow Bridge in Niagara Falls last month when she handed the customs officer her passport.
He asked her what her citizenship was.
"Why are you asking me my citizenship when it's right there on my American passport?'" she responded.
From that point on, the 51-year-old naturalized U.S. citizen claims, she was harassed, searched and handcuffed.
Now federal officials are investigating the complaint of the Muslim-American businesswoman that she was mistreated.
Arbabzadeh claims she was the victim of racial profiling. She filed a formal complaint with U.S. Customs & Border Protection -- a division of the Department of Homeland Security -- and is awaiting a written response to her complaint.
"I am upset because I was treated like a criminal, and I think the only reason I was treated that way is that I am a person who was born in the Mideast," Arbabzadeh told The Buffalo News. "I did nothing illegal and nothing wrong. The only thing I did was ask a question."
The Amherst businesswoman was born in Iran but has been in the United States since 1979. She became a U.S. citizen 17 years ago.
In an interview, she alleged that she was mistreated when she returned to the United States after doing some shopping in Niagara Falls, Ont., on the evening of March 24.
"I handed my passport to the young officer in the booth, and he said, 'What is your citizenship?'" Arbabzadeh said. "I asked him, 'Why are you asking me my citizenship when it's right there on my American passport?'"
She said the officer then ordered her out of her car. She said she was surrounded by about four other officers, put into handcuffs and taken to an office for questioning.
She said she was released and allowed to drive home in her car about 90 minutes after her arrival at the customs booth. For more than a week after the incident, Arbabzadeh told The News, she had severe pain in her wrists and right hand, her back and her shoulder. She said the pain was making it difficult for her to sleep.
Customs officials filed no charges against Arbabzadeh.
Asked to comment on Arbabzadeh's allegations of racial profiling and rough treatment, Thomas J. Rusert, spokesman for the Buffalo field office of Customs & Border Protection, said, "We take these allegations seriously, and we are looking into Ms. Arbabzadeh's complaint. We do pride ourselves on our professionalism, and we expect our officers to treat returning U.S. citizens and visitors in a professional and courteous manner."
While declining to comment on specifics in the woman's complaint, Rusert said it is routine procedure for officers at the bridge to ask an individual his or her citizenship, even after a passport has been shown.
"We ask every traveler for a verbal declaration of their citizenship," he said. "It's a felony crime to falsely declare that you are a U.S. citizen."
Dr. Khalid Qazi, president of the Muslim Public Affairs Council of Western New York, said he is concerned about Arbabzadeh's complaint. He said she took the proper steps in filing a written complaint with the federal agency.
"We still hear complaints of this nature from people in our Muslim-American and Arab-American communities but not nearly as many as we had seven years ago," Qazi said. "The officer at the bridge certainly has the right to verify that a person is who she claims to be, but the fact that she was put into handcuffs is very unusual."
Qazi said he is making no judgments about the actions of the officers, because he was not there. He said his organization frequently talks and holds training sessions with law enforcement agencies in hopes of preventing "misunderstandings" between Muslim-Americans and police.
Arbabzadeh runs the New Image spa, an Amherst facility that provides Botox, laser hair removal and other anti-aging treatments.
Arbabzadeh said she supports the right of Homeland Security to protect America from terrorists "100 percent."
Since moving to Amherst from New York City about eight years ago, she said, her car has been searched at local bridges "at least five or six times ... sometimes by police dogs."
"I am a law-abiding citizen. ... I'm an American, and I love this country," she said. "All I want is to be treated fairly, like any other citizen in this country."