29 April 2011
500 Nigerians Killed in Post-election Violence: Christians Told to Leave the North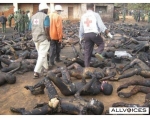 It has been estimated that more that 500 Nigerians, mostly Christians and other southerners have been so far killed in the post-election violence that erupted in some parts of the tick Muslim populated north.
Reports also have it that the Nigeria Muslim Council (NMC) issued an ultimatum on April 6, demanding Christians leave the north of the country within the week.
These views are contained in a report by the Release International, (www.releaseinternational.org) a United Kingdom (UK) based Christian advocacy group stressing that at the same time 60 churches were burnt and thousands of Christian homes destroyed in protest at the electoral victory of southern Christian Goodluck Jonathan.
It noted that a report by the religious rights charity, Open Doors have it that Muslims were then targeted in revenge attacks and that the Red Cross said that 16,000 people had been displaced across six states in the predominantly Muslim north of the country.
Release partner, Stefanos Foundation said that it had had words from the Christian Association of Nigeria (CAN) in Kano state to say that Christian leaders were struggling to cope with the high number of homeless people in need of help.
It also reported that CAN in Bauchi state had said that Christians had taken refuge at police barracks, after receiving threats adding that opposition leader Muhammadu Buhari confirmed to the BBC that churches were being burnt – but denied that the violence was religiously motivated.
Quoting BBC, it noted that most of the violence so far has occurred in the northern state of Kaduna. In one rural town there, Zonkwa, more than 300 people died.
It submitted that violence broke out on Monday, April 18, after the preliminary results of the presidential poll were announced. Supporters of opposition leader Buhari claimed the vote was rigged – though international monitors declared the poll to be free and fair.
"Many in the north believed the next president should come from their region because the last Muslim president, Umaru Yar'Adua, died in 2010 before he had finished his term. President Jonathan won 57 per cent of the votes," it further postulated.