27 April 2011
Canadian Muslim Group: "Only Support Non-Muslim Candidates Who Are Willing to Make it a Hate Crime to Publicly Associate Islam to Terrorism"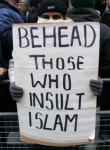 CANADIAN MUSLIMS AND THE 2011 FEDERAL ELECTION
The next federal election is set for May 2, 2011 and campaigns are in full swing. Canadian Muslims' reactions to elections and political campaigns vary significantly; some participate for personal reasons, others for community benefit, and many others do not participate at all.
What is the proper approach and what is not? To help Muslims answer this question, the following points are presented for your reflection: . . .
We should support only those non-Muslim candidates who are willing to present and support a Private Members' Bill making it a hate-crime to publicly associate Islam to terrorism, whether in written, spoken, printed, broadcast or electronic media. At the same time, we must take a balanced approach instead of being carried away by a single issue. The following are examples of other important issues against which we should evaluate all candidates.
http://weaselzippers.us/