05 November 2010
N.J. ACLU to sue NJ Transit for firing employee who burned Koran on 9/11 anniversary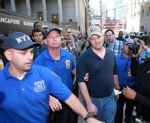 On the ninth anniversary of the 9/11 terror attacks, Derek Fenton stole headlines by burning pages from the Koran in Lower
Manhattan to protest a planned Islamic community center there. Two days later, he lost his job at New Jersey Transit for breaching the agency's code of ethics.
Now the American Civil Liberties Union says Fenton should get his job back. The group will file a lawsuit Friday in U.S. District Court saying Fenton was unconstitutionally fired for exercising his free speech rights.
"If you allow governments to censor one kind of speech, you open the door to censorship of all kinds of speech," said Deborah Jacobs, executive director of the ACLU in New Jersey. "Our individual right to free speech depends on everybody having it."
A spokeswoman for NJ Transit declined to comment today. When Fenton was fired, the agency released a statement saying it had "concluded that Mr. Fenton violated his trust as a state employee and therefore was dismissed."
Two months ago Fenton waded into a roiling international debate over free speech, religious freedom and Islam's place in America. Terry Jones, a fringe pastor from Florida, had already announced plans to burn the Koran on Sept. 11. Fueled by round-the-clock media coverage, it quickly became one of the world's most inflammatory topics. Gen. David Petraeus, the top American commander in Afghanistan, said the action could endanger U.S. soldiers, and Defense Secretary Robert Gates called Jones personally to ask him to cancel his plans.
Jones eventually decided not to burn the Koran.
But on that day Fenton, 39, of Bloomindale, did just that while standing outside the proposed Islamic community center site — a lightning rod for controversy as opponents say locating it two blocks from Ground Zero is insensitive to 9/11 victims while supporters defend it on the basis of religious freedom.
Fenton, wearing a khaki baseball cap and navy blue polo shirt, pulled pages from the Islamic holy book and set them on fire with a lighter. Surrounded by news cameras and a restless crowd, he was escorted away by New York police, but wasn't arrested. Fenton was not working that day, nor did he identify himself as an NJ Transit employee, the lawsuit said.
The ACLU said his actions constitute free speech.
"Fenton has the right, protected under the First Amendment to the federal constitution, to engage as a citizen in expressive activity about matters of public interest, including matters related to the proposed construction of an Islamic community center near Ground Zero," the lawsuit said. "When he burned pages of the Koran on September 11, 2010, as a protest against the center, Fenton was exercising that right."
Fenton, an 11-year employee, was an assistant consist coordinator, responsible for ensuring enough cars were available to put a train into service. He was removed from his job Sept. 13, according to the lawsuit, which seeks back pay and punitive damages. Frank Corrado, a lawyer working on the case, said attempts to get Fenton's job back were unsuccessful.
Fenton could not be reached for comment today. A number listed for him was disconnected and the ACLU said he would not be making public statements.
Michael Drewniak, a spokesman for Gov. Chris Christie, said in September the governor supported NJ Transit's decision to fire Fenton. He declined comment today.
State Sen. Raymond Lesniak (D-Union) has opposed the firing, saying Fenton should have been assigned diversity training rather than losing his job.
"They should have made this a learning moment rather than a confrontational moment," Lesniak said. "I am as much opposed to what he did as anyone. But the remedy is not to ignore a person's First Amendment rights."
The Council on American-Islamic Relations also said Fenton should have kept his job.
"If he did not in any way associate himself with the employer while he carried out this act, we would not support his firing, even though obviously we would object strenuously to his actions," spokesman Ibrahim Hooper said. "We're strong supporters of the First Amendment."
Harvard law professor Alan Dershowitz, a legal expert, said free speech cases are complicated by employment issues.
"You always have to ask the question of whether his expression affected his ability to perform his job," he said. "I think in this case, the balance favors his freedom of expression. But it's not a slam dunk."
Corrado said "this is the kind of case the First Amendement exists for." He drew a comparison to flag burning, upheld as free speech by the U.S. Supreme Court in 1989 and 1990