03 November 2010
WE WILL NOT BE SILENT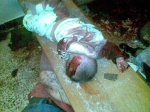 Mon Nov 8 from 12:00 pm to 4:00 pm

Detroit, Phoenix, NYC, Hartford, Chicago, San Diego, Modesto, Toronto, AUSTRALIA, SWEDEN, HOLLAND, GERMANY, AUSTRALIA, UNITED KINGDOM

Description

WE WILL NOT BE SILENT. WE WILL NEVER FORGET BLACK SUNDAY 31.10.10. WE WILL NEVER FORGET THE HORRIFIC BRUTALITY AND OVER 58 INNOCENT SOULS LOST ON THAT DAY.
THE MARCH IS BEING ORGANIZED AS WE SPEAK IN DETROIT, CHICAGO, PHOENIX, MODESTO, SAN DIEGO, NEWARK/NYC, TORONTO, AUSTRALIA, SWEDEN, HOLLAND, GERMANY, AUSTRALIA, UNITED KINGDOM....Please make this happen & commit.

To get involved - Contact:

Detroit: Evettetoma@yahoo.com
Hartford, CT: 860-670-4902 or email ztyonkers@gmail.com
Modesto: Suzanyounan@yahoo.com
San Diego: stephen@stephennissou.com
Chicago: ARBELA_BABA@YAHOO.COM, apdavid2@aol.com
Newark/NYC: fkunny@aol.com
Phoenix: caro-84@cox.net
London: Max Joseph - max.j.joseph@gmail.com
Australia: Contact Nahren Sharina Georges and Anabell St Vincent
Toronto & Hamilton: Nohadra.markai@hotmail.ca also RIVA G
Sweden: Sait Yildiz +46 707 964 928 - sait.yildiz@live.se

Europe we will update soon.

****November 8th @ 12 PM in each time zone. The marches will begin at selected points and end at selected Federal buildings. Black will be our color, our name will be one "Suraya" or "Suryoyo" - our name in our native tongue of Assyrian-Aramaic, and our message will be the same. Contacts and exact details will be listed soon.
****

Things to keep in mind for the rally:

1) The goal is 70,000 people across the world to protest on the same day and time in front of a Federal Government NOT CITY GOVERNMENT building.

2) Invite all groups Christian, Jewish, Muslim, Buddhist, everyone and everyone to be involved.

3) Choose a group of people to invite ALL local media outlets including newspapers, RADIO & tv stations. And your politicians & MP's too!

4) Choose a group of people to lead protest chants and the use of all protest signs and banners.

5) We MUST all be united on this point: THAT THE CHRISTIANS OF IRAQ NEED SPECIAL PROTECTION IN IRAQ THROUGH THE US GOVERNMENT & MILITARY AND OTHER WORLD GOVERNMENTS FROM ISLAMIC FUNDAMENTALISTS THROUGHOUT THE MAJOR CITIES BECAUSE OF THEIR RELIGION & IN THE NORTH FROM THE KURDS BECAUSE OF THEIR INDIGENOUS ETHNIC IDENTITY.

If you still have not sent a letter to your representatives and US President Obama demanding more security for Assyrians and other vulnerable minorities, do it now, and share it with your friends and family.

Don't forget to call the White House explaining the above point number 5:

CALL NOW: 202-456-1111
Or

EMAIL: http://www.whitehouse.gov/contact

If you are a resident of the US please use this link:

http://www.rallycongress.com/aancoalition/3648/go

We also call upon the Armenian communities, the Greek communities, the Jewish communities, the universities, and human rights organizations to march with us against this ethnic cleansing.

Background:

Since the 2003 US invasion of Iraq, its indigenous people have been brutally persecuted. Their numbers have dwindled from the millions to 600,000. With no militias, no armies, and no weapons, these people have tried to survive in a world where their lives are worth less. Targeted for their Christian identity, targeted for their ethnic identity, targeted for their economic status, and targeted for their land - these people have known nothing but agony and despair since the official end of combat operations in Iraq. Facing racial Islam, religious persecution, criminal criminal opportunists in the cities, they flee to their ancestral homeland in the North. Here they are safe from extortion, threats, rape, murder, church bombings, and massacres. Here, however, they face poverty, political oppression, and cultural genocide in their own ancestral villages by Kurdish parties preparing to establish an independent Kurdistan at the expense of these people. Kurdistan is not indigenous. It is not their land. Rather than live under such conditions, they flee once more to Syria, Jordan, and Turkey. Here, these governments deny them any and all rights and benefits. Here, they squalor in poverty much worse than in Northern Iraq. Here, they watch their daughters as they are forced into prostitution and their sons forced to beg. Here, they wait. Here, they rot. Those that stay in the cities risk their lives every day. Those that stay in the North watch helplessly as the Kurds continue to wage cultural genocide against the world's oldest civilization. This is their story.

This story does not begin in 2003. It begins in WWI as the British stood by as the Young Turks, bent on Turkish nationalism sought out to crush the three Christian ethnic groups standing in the way of their imperial ambitions. They, with the help of Kurds and Persians, effectuated a systematic genocide against Assyrian Christians, Armenian Christians, and Pontic Greek Christians. 750,000 innocent Assyrian Christians lost their lives in one of the most horrific events in world history. The story then moves to the creation of a new Sunni Arab Iraqi government in the 1930s. One of its first acts was to eliminate the Assyrian Christian separatist threat and massacred 33,000 Assyrian Christians at Simele. Here, the term "Genocide" was coined. Then came the Ba'athi regime and the reign of Saddam Hussein. Trading their ethnic identity for safety, Assyrian Christians underwent a systematic process of Arabization. The story then picks back up in 2003 as George Bush smiles at us, whispering "Mission Accomplished."

WE ARE ASSYRIAN CHRISTIANS. WE ARE NESTORIAN, WE ARE CHALDEAN CATHOLIC, WE ARE SYRIAC CATHOLIC, WE ARE SYRIAC ORTHODOX, AND WE ARE MARONITE CATHOLIC. WE ARE SILENT NO MORE. STAND WITH US.
Sent from my U.S. Cellular BlackBerry® smartphone