20 September 2010
Now preacher who vowed to burn the Koran is hit with £100,000 bill to cover cost of police security for his 9/11 stunt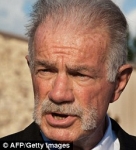 The maverick preacher who sparked an international crisis over plans to burn the Koran has been hit with a £100,000 bill to cover the cost of police security for the stunt.
More than 200 police, including members of a SWAT team, were on duty outside the church in Florida where Jones planned his mass burning of the Holy Book.
The huge security operation was put into place even though Jones called off the burning protest that had been condemned by President Obama and the Vatican.
City officials in Gainesville said they planned to send Jones the security bill.
But Jones, 58, has said he will not pay the police bill.
'If we had known this in advance, then we would have refused to have security,' he said.
The local police bill comes to more than £50,000 and the Sheriff's office has a similar bill from putting almost all of their officers on duty.
Pastor Jones and members of his Dove Outreach Church in Gainesville, Florida, had planned to throw 200 copies of the Islamic holy book on a bonfire on the 9th anniversary of the 9/11 attacks on America.
Protection: Police arrive at Jones' Gainesville church on a city bus on September 11, ready to stand guard against violent protesters
One protester is stopped by police outside the church
The event was called off after U.S. Defence Secretary Robert Gates called Jones and told him soldiers serving in Afghanistan would be put at greater risk by his protest.
With 48 hours until the planned burning Jones scrapped the event saying he had secured a promise from the backers of a mosque at Ground Zero that it would be moved to a new site.
He flew to New York in the hope of talking with the Imam Feisal Abdul Rauf who is behind the project - but was snubbed and returned to Florida without having held any discussions.
Enlarge
What Jones has unleashed: Tens of thousands of Iranians staged a protest demonstration against the Koran-burning initiative in the U.S., in Tehran yesterday. They also demanded the killing of Terry Jones
The Iranian protest came on the heels of a similar protest in Mogadishu, Somalia two days earlier, above. There Al Qaeda is believed to be working closely with Al Shabaab
The security bill could bankrupt Jones and his church which has less than 40 members.
The 20-acre site that houses the church is up for sale and Jones has said he wants to move to Tampa to a smaller site.
Officials in Gainesville said Jones is liable for the cost of policing as they provided a 'direct service' to the church.
While the event was called off police mounted a huge security operation in the Florida town amid fears of revenge bomb attacks.
The FBI had warned of terror threats made against Jones and retaliatory attacks.