18 September 2010
E.L. to offer $10K reward for Quran burning info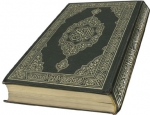 A $10,000 reward fund for information leading to the identification of the person or persons involved in the recent Quran burning in East Lansing will be announced today, East Lansing City Manager Ted Staton said Tuesday.
Staton made the announcement at the East Lansing City Council's Tuesday work session at East Lansing's 54-B district court.
The money will be taken from the city's general fund and the city will be accepting donations, he said. The amount of money given to any individual who comes forth with information will be determined based on the value of the information obtained, he said.
"We have used this before," he said. "We think oftentimes people who commit acts like this tend to talk about it. We might find out how extensive these conversations have been."
The East Lansing Police Department, or ELPD, has been investigating the Quran burning case since early Saturday when officers were notified of remnants of the Muslim holy book outside the Islamic Center of Greater Lansing on Harrison Road. The pages were strewn up and down Harrison Road, said Dawud Walid, executive director of the Michigan chapter of the Council on American Islamic Relations, or CAIR-MI.
According to the ELPD report, the incident occurred between 11 p.m. Friday and 1:30 a.m. Saturday. Investigation is ongoing and no suspects were known as of Monday.
The Islamic Center was informed of the reward fund's creation Tuesday morning, Islamic Center spokesman Abdalmajid Katranji said. Support from city officials and the local community has been tremendous, he said.
"This is exactly what we know of the community of East Lansing," Katranji said. "It's a very welcoming community. It's been a home to us for decades, and it will continue to be a home for us."
It is believed by city officials and others involved in the situation that the perpetrator is not from the East Lansing area, said Thasin Sardar, a volunteer at the Islamic Center. The enthusiastic approach by the city and investigators hopefully will yield results in the search for the responsible party, he said.
"I was surprised at the rapidness with which they have issued (the reward fund)," Sardar said. "We are satisfied with the way the case is being pursued by the city of East Lansing and the FBI. They have taken it very seriously."
The community will not find closure without the identification of the party responsible for the Quran burning, premedical freshman Abdelaziz Adawe said.
"The person that did this needs to be held responsible," Adawe said. "This person needs to be caught to ensure the community's safety."
The city of East Lansing is an international community with diverse members, Staton said.
"We are proud to have a mosque, a synagogue and many other churches in our communities, and we want to protect them from any sort of actions of intimidation," he said.
Staff writers Megan Durisin and Lauren McKown contributed to this report.