16 September 2010
Grandmother, 64, strangled and beaten to death by Tunisian toyboy on holiday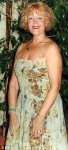 A British grandmother was strangled and beaten to death by her Tunisian boyfriend, an inquest heard today
Pauline Richardson, 64, had travelled with a friend to the resort of Port El Kantaoui in Tunisia in June 2008.
She was due to fly back on June 29 and on that day visited Qabeel Jabir Al-Wardani, who was then in his 20s.
Mrs Richardson missed her flight home and her body was discovered the next day.
Al-Wardani was arrested and admitted pre-meditated murder, saying he had strangled the grandmother from Bishop Auckland, County Durham.
Although no official confirmation has ever been received from authorities in Tunisia, Detective Constable Dave Ripley today told an inquest in County Durham that Al-Wardani had been jailed for life.
A post-mortem revealed Mrs Richardson had been strangled and suffered blows to the head.
Coroner Andrew Tweddle told a hearing at Chester-le-Street Magistrates' Court that the mother-of-two had gone to meet Mr Al-Wardani at 6pm.
Mr Tweddle said: 'She had some form of relationship with an individual I believe to be a Tunisian national called Qabeel Jabir Al-Wardani.
'At 6pm on Sunday 29 June, she parted company with her friends to go and see this gentleman. That was the day they intended to come back home.
'People got concerned when she didn't make the airplane which left without her. Inquiries were then made to ascertain what had happened to her.
'Following these inquiries and contact being made with Mr Al-Wardani, her body was subsequently found and it looked as if she had been the victim of what can only be described as an assault and a murder.
'Mr Al-Wardani was arrested and interviewed by the authorities in Tunisia and finally admitted his involvement in her death and accepted he had murdered her at around 8.30pm on that same night.
'There were proceedings in the criminal courts out there and he was convicted of Pauline's murder.'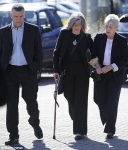 Grieving: Mrs Richardson's family arrived at the inquest into her death today
At the time of Mrs Richardson's death, her daughter Beverley Sains, 47, said she suspected something was wrong when one of her mother's two travelling companions rang to say she had gone missing.
Mrs Richardson's body was discovered 24 hours later in an unidentified location.
Mrs Sains said her mother had travelled to Tunisia often in the two years before her death, both with her friends and her grandchildren, Richard and Natalie.
Mrs Sains said: 'She just loved to travel. Wherever she went, she made friends. She loved warm weather as it helped her arthritis.
'She was an outgoing person who wanted to live life to the full and enjoy her family.'
DC Ripley, of Durham Constabulary, told the inquest that even two years after the murder he still had no official confirmation of what had happened to Al-Wardani.
He said: 'Even today I have been in touch with the Foreign and Commonwealth Office and we are still awaiting written confirmation from Tunisia of the sentencing.
'However, I've spoken with a solicitor who represents the family of the deceased. He has an agent out there and the agent has provided me with information that a guilty verdict was passed and the defendant received life imprisonment for that verdict.'
DC Ripley added that Al-Wardini had admitted 'pre-meditated murder' but said he had no further information about the killing.
The coroner asked DC Ripley to continue his inquiries until he receives official confirmation of the sentence.
'I would like you to continue with your inquiries and get a formal verdict,' he said. 'I would like to have some documents from the Tunisian authorities to confirm what your understanding is.'
A verdict of unlawful killing was recorded.