12 September 2010
Muslims Against the Crusades commemorate 9/11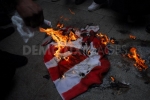 A group of 'Muslims Against the Crusades' commemorated the attacks 9 years ago today on the World Trade Center in New York by burning a flag in front of the US Embassy with a heavy police presence monitoring. London, United Kingdom 11/09/2010.
The group were boisterous and demonstrating in front of the embassy encompassed by a large police presence in case the English Defence League (EDL) should decide to counter demonstrate.
Members of the public observed some of which felt extremely uncomfortable and offended by the commemoration display.
After numerous speeches an American flag was doused with lighter fluid and set alight on the pavement with an uproar of cheering.
The EDL were in the area following their demonstration to pay tribute to those that were killed earlier in the day. One EDL member managed to throw a can of liquid at the MAC demonstration and was promptly arrested, whilst another member tried to breach police lines to get at the Muslims, but was kept back by police
SEE all PICS http://www.demotix.com/news/436695/muslims-against-crusad...