04 September 2010
Catholic church hall to be converted to mosque in Nova Scotia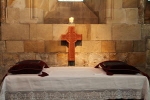 Sydney - A Catholic church hall will be converted into a mosque in Sydney, Nova Scotia. The building will be used for prayers,
meetings, educating children in the Muslim faith and as a community outreach centre.
The hall, which had been used by Holy Redeemer Parish Church, was sold by the Antigonish Roman Catholic diocese because fewer people attending church meant that it was no longer needed.
CBC News
reported that there are more than 30 families in the group which bought the hall. They have been meeting for worship in rented spaces throughout the city.
Irshaad Sardiwalla, one of the people who intends to worship at the new mosque, said it will attract Muslims to Cape Breton.
The building will be renovated and get a new roof before it is used for worship.
"This is one of the greatest things I've heard so far," Archbishop Vincent Waterman, head of the nearby African Orthodox Church said to
CBC News
.
"As a prayer centre, I welcome it. When you take roots in a community such as this, it shows that you're going to stay for a while. You're putting down roots.
posted by / http://www.digitaljournal.com"