26 August 2010
Obama's 'Outreach': Millions to be Spent Restoring Islamic Sites Worldwide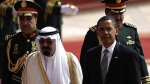 As US President Barack Hussein Obama continues on his seemingly endless quest to appease Muslims, with instructions to NASA to 'find a way' to reach them, Iftar dinners at the White House and the US State Dept.'s sponsorship of Ground Zero Mosque Imam Feisal Abdul Rauf's forthcoming
'speaking tour' of Muslim countries (without knowledge of what exactly he'll be talking about); it emerges that that his administration is also planning to spend millions of taxpayer dollars on the restoration of dozens of Muslim sites around the world:
WASHINGTON – The goodwill tour of the Middle East by the Imam behind the proposed mosque near ground zero is just part of the U.S. government's efforts to reach out to the Muslim world.
This year, the Obama administration will spend nearly $6 million to restore 63 historic and cultural sites, including mosques and minarets, in 55 nations, according to State Department documents.
Under a program established by Congress in 2001, the department will fund at least five projects in as many countries at a cost of more than $271,000.
The contributions include $76,135 for the 16th century Grand Mosque in Tongxin, China, and $67,500 for the 18th century Golden Mosque in Lahore, Pakistan. An additional $62,169 will be spent on restoring a 19th century minaret in Mauritania's ancient city of Tichitt; $50,437 for the Sundarwala Burj, a 16th century Islamic Monument in New Delhi, and $15,450 to restore the 18th century Gobarau Minaret in Katsina, Nigeria.
The amount spent on mosque restoration projects is a fraction of the total in the 2010 Ambassadors Fund for Cultural Preservation, which also will fund projects to restore Christian and Buddhist sites as well as museums, forts and palaces.
Since 2001, the U.S. government has spent almost $26 million on the program to fund about 640 cultural preservation projects in more than 100 countries.
"The fund has demonstrated America's respect for the world's cultural heritage," Secretary of State Hillary Rodham Clinton said last month in announcing the 2010 projects. "Cultural heritage serves as a reminder of historical experiences and achievements of humanity. Ancient structures and objects offer important lessons for us today."
Throughout his administration, Obama has been fervent in his support of Islam and Muslims and distinctly cold towards other faiths. Some believe that he is in fact Muslim himself (we believe this to be at least technically true, as he was born to a Muslim father and schooled as a Muslim in Indonesia – which would make him at the very least an apostate of Islam, if, as he claims, he is now a Christian).
But why, at a time when America is coming out of one of the worst recessions in history, is he squandering US taxpayers' money on such naked appeasement as this? Surely it is the responsibility of Muslims to maintain their own holy sites? How many Synagogues and churches will be receiving the same largesse (no, don't answer – that was a rhetorical question)?
Despite Hillary's noble attempts to to justify this absurd initiative, it boils down to little more than propitiation – and will, as regular Un:dhimmi readers know, lead to nothing. The Islamists will take your money, curse you behind your backs and carry on espousing Jihad anyway.