16 July 2010
Pakistan: Muslim Doctor rapes Christian student Nurse and attempts to murder her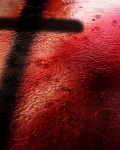 Muslim doctor throws her from fourth floor of Jinnah Post Graduate Medical Center Karachi after raping her, it is hospital named on Founder of Pakistan, Quaid-e-Azam Mohammad Ali Jinnah, where all doctors are Muslims and non a Christian.
The visitors of patient see Magdalene Ashraf, a girl in nursing uniform being thrown from fourth floor by a person in white coat of doctors and call hospital security.

The victim is a Christian aged 23 and daughter of a poor Christian Ashraf Masih who dreams good future for his daughter Magdalene after graduation in JPMC School of Nursing.

As the news reaches to Ashraf Masih that her daughter is raped and Muslim rapist doctor have attempted to kill her, he rushes to hospital where he finds her dreams in critical conditions fighting for life on hospital bed. He cries and calls his Christian leaders to seek help and justice.

The Jinnah Post Graduate Medical Center JPMC is a teaching hospital with Medical College and Nursing School. There were 100% Christian student nurses in JPMC School of Nursing till 1980 but late Muslim students took over and admission of Christian students was minimized to 20%. There is JPMC Medical College where non of Christian medical student is registered student from decades, JPMC is administered under Federal Government and funded by Ministry of Health.

The Christian leaders of Karachi, Mr. Michael Javeed and Saleem Khokhar reached hospital after media reports case of rape and protest on not lodging case against Muslim rapists doctor.

There are hundreds of rape cases of Christian nurses by Muslim doctors which go un-reported in Pakistan when rapists are from influential Muslim families which forces Christian nurses to keep silent to safe their families but Magdalene Ashraf took her voice up and faced attempt to kill her.

After agitation of Christians in JPMC, the police is called by Security officer of JPMC and case is registered against Muslim doctor Jabbar Memon under section 324 PPC, in Saddar Police Station Karachi.

Accused doctor Jabbar Memon was transferred from Abbasi Shaheed Hospital on his ill behavior to JPMC.

The Christian Lawyers Foundation leader Khalid Gill have formed an enquiry committee comprising of Michael Javeed, Pandat Sham Lal Sharma and Khalsa Saardar Ramesh Singh, President Sikh Nojwan Sabha Pakistan.

Pakistan Christian Congress PCC have strongly condemned the rape and attempt to kill Christian student nurse and demanded justice.