23 June 2010
'Greedy, manipulative and cunning': Judge's verdict on NHS manager who fraudulently claimed £15,000 in benefits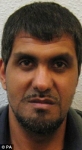 An NHS management consultant who charges more than £300 per hour has been jailed for fraudulently claiming thousands of pounds in benefits.

Zahid Ali claimed a total of about £15,000 in housing benefit, council tax benefit and Jobseeker's Allowance - even though he owns properties in Dubai and lives in a £1milion Surrey mansion.
The 47-year-old father-of-three failed to declare earnings of £212,000 between 2004 and 2008, which he made through his management consultancy company Coulsdon Limited.
Meanwhile, he drew benefits from Sutton Council, Reigate & Banstead Borough Council and the Department for Work and Pensions.
Croydon Crown Court heard he had claimed housing benefit for two properties owned by his wife in the Surrey towns of Sutton and Coulsdon.
The couple had built the gated Coulsdon mansion themselves. Meanwhile they lived in a seven-bedroom gated property in Kingswood, Surrey, owned by Ali's parents-in-law.
Ali also owned a Mercedes, a Jeep and two properties in the United Arab Emirates.
He was jailed for nine months after pleading guilty to seven counts of benefit fraud.
Passing sentencey, Judge Heather Baucher branded Ali 'greedy, manipulative and cunning'.
She said: 'Benefit payments are for vulnerable people - not to support people who are deeply greedy, manipulative and cunning.'
She added: 'I doubt this would have come to light unless you were caught red-handed. The investigations were both detailed and properly maintained throughout.
'Your housing benefit claim was false from the outset, where you deliberately provided false tenancy agreements, false letters from an alleged landlord, which involved careful, thoughtful planning.'
She ordered Ali to pay costs of £3,000 to the prosecution, saying he was 'obviously a man of substantial means'.
Ali was caught while working as a practice manager for Nork Clinic in Banstead, Surrey, after an investigation by Sutton Council's trading standards officers and the DWP.
It emerged that he had also worked elsewhere, including for Brent primary care trust in north west London and for a healthcare organisation called AT Medics.
The court heard he earned £325 per hour through his consultancy firm.
He had taken half-days as leave from work to sign on and pretended to be in hospital for a while so he could not go and claim his Jobseekers' Allowance.
In fact he was away working in Leicester at the time.
Councillor John Drage, executive member for finance and efficiency at Sutton Council, said: 'It is shocking that a man with a decent job who is able to enjoy luxuries like flashy cars and foreign holiday homes would try to take money from those that really need it.
'I hope this sentence serves as a harsh warning. We will not tolerate people stealing from the taxpayers' purse, we will root out benefit cheats and bring them to justice.'
Ali has repaid in full the amount he fraudulently claimed.