18 June 2010
May bans radical preacher from entering UK for saying 'every Muslim should be a terrorist'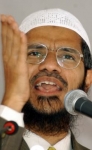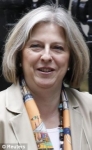 A preacher who believes 'every Muslim should be a terrorist' has been banned from coming to Britain.

Home Secretary Theresa May said Zakir Naik would not be allowed to enter the country under laws that can exclude anyone who writes or publishes material that can 'foment justify or glorify terrorist violence'.
Indian television preacher Dr Naik, 44, was due to give a series lectures at arenas in Wembley and Sheffield.
Banned: Home Secretary Theresa May has denied world-renowed Islamic scholar Dr Zakir Naik entry into the UK because of inflammatory comments he has made
Mrs May said the doctor was being excluded because repeated comments attributed to him was evidence of his 'unacceptable behaviour'.
She said: 'Coming to the UK is a privilege not a right, and I am not willing to allow those who might not be conducive to the public good to enter the UK.'
Home Office sources told The Daily Telegraph that website footage had shown the preacher making the claim that every Muslim should embrace terrorism.
Website footage is considered published material.
Dr Naik said Muslims should beware of people saying Osama bin Laden was right or wrong, adding: 'If you ask my view, if given the truth, if he is fighting the enmies of Islam, I am for him.
'If he is terrorising the terrorists, if he is terrorising America the terrorist, the biggest terrorist, every Muslim should be a terrorist.'
He is also reported as saying that western women make themselves ' more susceptible to rape' by wearing revealing clothing