09 June 2010
North Jersey terror case: Warning signs came early in "angry young man"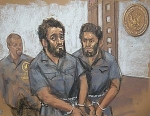 They were two men who seemed fundamentally different: one so stridently anti-American that school officials alerted federal authorities about him in 2006, while the other was shy and a late convert to Islam.
But Mohamed Mahmood Alessa, 20, of North Bergen and Carlos Eduardo Almonte, 24, of Elmwood Park stood together in federal court in Newark on Monday, accused of seeking to wage jihad on American troops overseas.
Authorities said Alessa, though the younger of the two, led the burgeoning pair of terrorists and school officials painted a picture of a misguided student who early on was deemed a danger to others.
Alessa, a U.S. citizen of Palestinian heritage, transferred to North Bergen High School in December 2004 from Al-Huda School, a private Islamic school in Paterson, said Paul Swibinski, spokesman for the North Bergen school district. A few months later, in February 2005, school administrators placed him on home instruction for reasons Swibinski would not disclose in detail.
"It was because of concerns of safety and well-being of other students and school personnel," Swibinski said. "His behavior caused concern among school administration."
Alessa's neighbor of nine years, Ericka Mendez, 19, said that Alessa would "act like he was tough" at school and spent a lot of time in the principal's office. She added, however, that he was "a nice guy" and she was surprised by his arrest.
Alessa's behavior problems worsened in September 2005, when he transferred to KAS Prep, an alternative school in Hudson County that offers night classes to about 400 students who are not successful in traditional classroom settings.
A school official who was at KAS at the time said Alessa talked about mutilating homosexuals, subordinating women in the name of Islam and bringing a gang of Muslims to blow up the school.
"Everyone tried to help this kid, he's just an angry young man," said the source, who was not authorized to speak for the school and asked not to be identified.
School officials contacted the New Jersey Department of Homeland Security several times in 2006 when Alessa's anti-American rhetoric became alarming, the source said. Officials from the FBI and U.S. Department of Homeland Security contacted school administrators soon after and several of Alessa's neighbors said they were questioned by FBI agents.
The tip that prompted law enforcement to begin their investigation, however, appears to have come later in 2006, court documents show.
Alessa became a North Bergen High School student again in March 2007 but took his lessons in the township's public library with a security guard present, Swibinski said.
Alessa left North Bergen schools altogether in February 2007 when, according to North Bergen High School records, he moved to Jordan. Prosecutors said that he and Almonte tried and failed to join the insurgency in Iraq during that trip.
Months later, in October, the Islamic Center of East Orange requested records from North Bergen. Islamic Center officials did not return a call requesting comment.
A Bergen Community College spokeswoman confirmed that Alessa enrolled at BCC in Paramus from spring 2009 through spring 2010 and earned college credits for his courses there, but he was not enrolled for this summer or fall.
Almonte, a Dominican immigrant who is a naturalized U.S. citizen, cut an entirely different figure, at least until he met Alessa, family members said.
His sister, Heidy, who is married to a Wayne police officer, blamed Alessa for twisting her brother.
"Nobody likes him," she said at her Elmwood Park home. "He's not a good influence."
His father Pedro Almonte, who was so disgusted he refused to go to his son's hearing in U.S. District Court in Newark, said he doesn't understand how his family landed in a terrorism probe.
"My neighbors know me. They know who I am: a hard-working guy with two or three jobs all my life," Almonte said. "I've never been in this situation. I don't even know how a court looks."