06 June 2010
Turkey: Catholic bishop murdered in south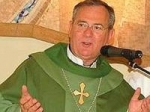 (AKI) - A Catholic bishop has been stabbed to death in his home in the southern Turkish province of Hatay, according to the state-run Anatolian news
agency. Luigi Padovese, who served in a diocese in the town of Iskenderun near the town of Antioch, was killed at his home, the agency said, without providing further details.

A source told the private TV network, NTV, that the 63-year-old priest, who had been living in Turkey since 2004, was stabbed by his driver.

After the attack Padovese was immediately transferred to hospital but later died of his wounds.

The bishop's murder is the latest in a string of attacks in recent years on Christians in Turkey, where they comprise less than one percent of the population of 70 million.

In 2006, Catholic priest Andrea Santoro was murdered in the Black Sea town of Trabzon in an attack blamed on ultra-nationalists and a year later another priest in the western city of Izmir, Adriano Franchini, was stabbed and wounded in the stomach by a 19-year-old after Sunday Mass.

The same year, a group of men entered a Bible-publishing house in the central Anatolian city of Malatya and killed three Christians, including a German national. The five alleged killers are now standing trial for murder.

The killings — in which the victims were tied up and had their throats slit — drew international condemnation.