05 May 2010
Four dead after terrorist attack near Mosul targets buses of Christian students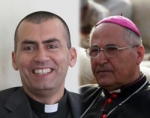 Mosul, Iraq, May 4, 2010 / 04:17 am (CNA/EWTN News).- A Sunday terrorist attack against a column of buses taking young Christian students to Mosul killed four and injured 171, at least 17 seriously. Christians were
The Chaldean Archbishop of Mosul Emil Shimoun Nona confirmed the news to SIR on Monday.
He said the attack began with an explosion, followed by the detonation of a car bomb parked on the roadside just before the caravan entered town.
The blast was "devastating," he added.
"The column drove through the area every morning to drive these young people, aged between 18 and 26, to the university of Mosul, and maybe that's precisely why they were an easy target for the terrorists," Archbishop Nona told SIR.
"This is the umpteenth terrorist attack against Christians. Violence is going on relentlessly."
Redemptorist priest Fr. Bashar Warda discussed the attack with Fides news agency.
"We are shocked," he said.
He said the victims were not soldiers or activists but "only students carrying their books, pens, their dreams of growing and serving their country."
"Christians are still the target, and they are the privileged victims of violence."
The Chaldean patriarchal vicar of Baghdad, Bishop Shlemon Warduni, described the fear and shock of the Christian community after the attack.
"We really don't know what to do in the face of such violence," he told SIR. "The escort was not enough to avoid the massacre, two cars, one in front and one at the back of the column of buses that were driving these young people from their village of Qaraqosh to the university of Mosul."
The bishop said Christians had not heard from any politician or institutional leader after the attack "and we are even sorrier for that."
He reported that the situation after the election has not helped security. "And it will take even longer, with the decision to recount the votes cast in Baghdad," he stated.
Archbishop Nona also lamented the power vacuum, saying that the lack of a new government and internal diatribes within the political parties are "fertile ground for violence."