27 April 2010
Record failure rate in national high school exam, Catholic schools buck the trend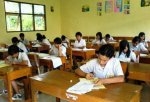 Everyone at the Saint John's Catholic School passed the exam. Their success is the exception to the rule in Indonesia's school system, which has reached a new low in
terms of exam failures. For the Education minister, the lower-than-expected success rate is due to tighter controls to prevent cheating; for the teachers' federation, the results are the consequence of a failing education system.

Jakarta (AsiaNews) – Students at Saint John's Catholic School were all smiles, cheer and joy when they found out that they had all passed the Ujian Nasional (UN), the national high school exam, thus earning the much longed-for diploma. However, good results at a Catholic school cannot hide the overall dismal status of the country's educational system, which has seen a record number of failures this year.
The Saint John's Catholic School is located in BSD City, a town in Tangerang District (Banten Province). For the second year in a row, all students passed their high school exam, last obstacle before going to university. By contrast, the failure rate across the country skyrocketed.
Education Ministry data point to a crisis in the education system. In some schools, no one passed the national exam. In Jakarta Province, where the best schools are concentrated, 10,397 students failed their exam out of 110,131 who wrote it.
For Jakarta's Education Office Chief Taufik Yudi Mulyanto, "the number of failing students is decreasing", even though that represents ten per cent in the country's best schools.
In other provinces, results are equally discouraging. North Jakarta Province saw a record failure rate with 1,314 students failing to pass their exam; in Bali, the number was 1,090, a number that is far higher than last year's. In West Sumatra, 7,450 failed their UN, up from 3,409 last year. In Lampung Province, 2,200 flunked out.
East Nusa Tenggara (NTT) topped the negative score with 18,833 failing their exam. In six classes in the Islamic schools of Majene (West Sulawesi), no one passed the exam. In other local Islamic schools, the failure rate hit the roof with only 128 students out of 700 making it.
Four high schools in South Sumatra also saw every student fail the national exam.
For Education Minister Mohammad Nuh, the higher-than-usual failure rate is the result of tighter supervision, which prevented students from cheating as widely as in the past. In a statement, he told students who flunked out to prepare for future remedial exams.
Conversely, the Indonesian Independent Teachers' Federation chairman rejected the minister's claim, saying that the dismal results reflect the failure of the education system, and are a sign of how serious the problem is. As far as he is concerned, there is "no improvement in the education system".