22 April 2010
Ongoing detention of a Christian couple in Isfahan with no charges filed yet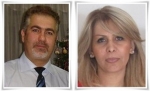 With the passage of 45 days from the arrest and detention of a Christian couple by the government security agents there is still no
According to reports received by the Farsi Christian News Network (FCNN), 45 days after the arrest of a Christian couple in Isfahan (439 km south of Tehran), the government security and judicial authorities have not yet brought any charges against this couple who were arrested by plain clothes officer at their home on February 28, 2010.
Mr. Hamid Shafiee and his wife, Reyhaneh Aghajary, continue to remain under arrest in the Dastgerd Prison in Isfahan.
Informed sources report that Mr. Shafiee is held at the A-T wing of the prison, which happens to be the section of the prison designated for political prisoners and Mrs. Aghajary is held in the women's wing.
Despite frantic efforts by the family and the children of this couple to obtain visitation rights, only once, on April 7th, a brief visitation at the prison was granted.
FCNN reports that Mrs. Aghajary had requested visits with her children on several occasions which were rejected. This led to her going on a hunger strike prior to the visitation by her children on April 7th. Reports indicate that her physical condition is not very good and she has lost a lot of weight.
Prior to the visitation that was allowed on April 7th, rumors had been circulating regarding the physical condition of this Christian couple from eye witnesses that had seen the couple and prisoners who had been freed since and most of these reports painted a grim picture of their well being.
New reports indicated that on April 4, 2010, the families of the detainees were notified by the government agents that Mrs. Aghajary would be tried at the Golestan divisional court. When the families of Mrs. Aghajary arrived at the court, they noticed that all the prisoners who were brought to the court for trial were men and she was not there. In checking the list of prisoners who were scheduled to be tried there was no mention of Hamid Shafiee either.
Repeatedly, the families of this coupled have contacted the 113th division of the Ministry of Information and demanded accurate and reliable information about their loved ones, but in every such attempt the government had refused to provide any such information. In the last phone conversation between the mother of Hamid Shafiee and the government agents, and after her repeated appeal to free her innocent son, she was told that the government is willing to free him, but he is unwilling to cooperate with the government. Despite promises made by some prison officials of their imminent release no such release order has been given.
One must question the purpose of all this suffering inflicted upon this couple, their children, and their families.
What crimes have Hamid Shafiee and Reyhaneh Aghajary committed?
Why have they been held in prison for more than 45 days with no formal charges and thus deprived their young and underage children from their parental love and care?
They are neither political activist nor reporters or bloggers who may have expressed anti-government views. They are just a Christian couple who believe in the Lordship of Jesus Christ!
According to the constitution of the Islamic Republic of Iran freedom of thought is an enshrined right and any attempt to control free thought is banned according to the section 23 of the constitution.
The arrest of this Christian couple can only mean that their faith and views about Christ has been the focus of the authorities