20 April 2010
Escorts assaulted by man posing as cop: Police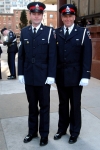 An Ottawa man has been charged with sexually assaulting and choking two female escorts while pretending to be a cop.
On Monday, police said they have charged Asad Noor Saleh, 24, with two counts of sexual assault, two counts of impersonating a police officer, forcible confinement, choking, theft under $5,000 and robbery.
The charges stem from two separate incidents, one late last year and one in January.
"These were very significant assaults," said Ottawa Police Staff Sgt. John McGetrick. "It's fair to say there was violence involved."
McGetrick said one woman went to police in February with allegations she had been assaulted by Saleh in January. Saleh was arrested and charged before being released on a promise to appear in court at a later date. When his court date came Saleh failed to show up, McGetrick said, and a warrant was issued for his arrest.
In the meantime, a second woman came forward with allegations she had been assaulted by Saleh late last year. When police finally arrested Saleh this past Friday, he was charged in relation to the second victim's allegations.
Both assaults occurred at private locations, McGetrick said.
It's alleged Saleh impersonated a police officer in order to gain the upper hand over his victims.
"He advised them he was a police officer," said McGetrick, referring to the allegations made by both women. "He (allegedly) did this in order to intimidate them and prevent them from going to the authorities after the assaults."
McGetrick said while Saleh is currently only charged in relation to these two incidents, it's possible more victims may come forward.
"In cases like this, and it doesn't always happen, but often we find there are more victims out there," he said. "It's possible that's what we're dealing with in this case."
According to reports Saleh works as a personal trainer at a fitness centre on Hazeldean Rd. in Kanata.
When asked by phone whether a man by that name worked there, a woman at the centre answered, "Yes, he does."
The centre manager did not return a phone message Monday.
Saleh was scheduled to make an appearance in court Monday.
— With files from Doug Hempstead
terri.saunders@sunmedia.ca