18 April 2010
TV 'distracts' Muslim lags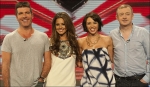 ISLAMIC inmates at a maximum security jail have handed in their cell TVs because they do not want to watch the 'distracting' X Factor.
Crooks including terror suspects at HMP Long Lartin in Worcestershire say they would rather spend more time on religious study than watch the raucous talent show, judged by Simon Cowell, Cheryl Cole, Danni Minogue and Louis Walsh.
Islamic inmate Abu Dira wrote to lag magazine Inside Time about the X Factor protest at the maximum security jail.
Extremism
He said: "Many Muslims in Long Lartin have handed back their televisions, as they are viewed as nothing more than a distraction to religious study.
"I do not envisage hordes of crying Muslims lamenting the loss of X Factor."
The inmate also blasted plans to fight Islamic extremism by flooding the prison library with books from moderates, saying no one would read them, "let alone accept the viewpoint of those individuals who align themselves with occupational forces".
Figures revealed show the Muslim population inside Long Lartin has doubled in just two years, with a quarter of all prisoners now followers of Islam.
Meanwhile, it has emerged that extremists held in the maximum security terror detainee unit are being given fresh sheets after every cell search by drug dogs so that their religion is not offended.
Yet non-Muslim prisoners have complained that Islamic inmates are being offered preferential treatment as others are not offered clean sheets.
James Brandon, a researcher for anti-extremist think tank The Quilliam Foundation, said: "Tensions between Muslims and prison staff have arisen from the use of search dogs as a result of some Islamic traditions teaching dogs are unclean, which leads to distress for ordinary Muslims as well as extremists.
"Extremists are able to make political capital out of almost any issue which concerns ordinary Muslims making it imperative for the Prison Service to minimize the issues and grievances which Islamists can exploit."
Fanatics at Long Lartin include Mohammed Hamid, 51, dubbed Osama Bin London for training militants in the Lake District, and Al Qaeda member Adel Abdel Bary, wanted for the 1998 African embassy bombings which killed more than 200 people