09 April 2010
Saudi female poet loses contest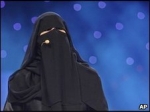 The veiled female Saudi poet competing in the United Arab Emirates' version of Pop Idol failed to win the top prize in the final of the event.
Hissa Hilal, who had attracted attention with her poetry - fiercely critical of Islamist radicals - came third in the Millions Poet contest.
But the mother of four walked away with a $817,000 (£536,000) prize.
The winner, Nasser al-Ajami from Kuwait, received the 5m dirham ($1.4m) first prize.
Death threats
Mrs Hilal, Wearing the Saudi traditional head-to-toe black abaya cloak, with a veil masking her face, recited her last poem in the contest - a defence of the freedom of thought.
In past rounds she recited poems which condemned "evil" fatwas by radical Muslim clerics.
As a result she received death threats on the internet.
The annual competition in the UAE capital Abu Dhabi draws masters of Bedouin dialect poetry, known as Nabati, which is highly appreciated by Gulf Arabs.
Hilal has drawn the wrath of Islamist conservatives in her home country of Saudi Arabia after criticising its strict segregation of the sexes and blasting fatwas that reject an easing to allow women to take on jobs that are currently for men only.
The contest's panel, whose voting accounted for 60% of the final score, gave her the highest score and praised her courage for expressing her opinion "honestly and powerfully".
But Hilal lost out after the audience vote, which accounted for the remaining 40%, was not enough to give her the crown