02 April 2010
US congressman sees stronger Saudi ties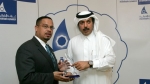 DAMMAM: An American Muslim congressman said work is under way to improve the visa process for Saudis traveling to the United States.
Keith Ellison, Democratic congressman for Minneapolis, also expressed confidence that the two nations' long relationship would grow stronger in the coming years.
Ellison, who was acting as head of a trade delegation to Saudi Arabia, made the remarks on Wednesday during a visit to the Asharqia Chamber of Commerce and Industry in Dammam.
He led a delegation of CEOs and managing directors of American companies from the sectors of oil and gas, information technology, petrochemicals, insurance, engineering, banking, transport, communications, security, health and contracting.
"We have a long-term relationship. However, no relationship can stay strong unless it is nurtured and so the point of our trade mission is to nurture and strengthen that relationship," Ellison told Arab News exclusively.
"My view is that since 9/11 some Americans haven't really understood the strength of the relationship, so what we are trying to do is to reacquaint a whole new generation of American businesspeople with our long and time-tested mutually beneficial relationship."
To those ends, Ellison said he is working to ease travel to the United States.
"One of the things that I have to take on as one of my own personal projects is to ameliorate this visa issue," Ellison said.
"I have met many Saudi people who have been back and forth to the United States and yet they are still being stopped and treated with lack of courtesy. This is having a negative impact on business (between the two countries). I want to assure everybody in Saudi Arabia that this is an issue I take very seriously. I am working with others to get this resolved."
He added that the US has to look after its own security, but also accepted many people delayed or stopped at airports did not present any security threat and were legitimate businesspeople.
Despite intense interest from Europe, China and India in bolstering trade with Saudi Arabia, Ellison is confident his country's dynamism exceeds that of its global competitors.
"The United States can compete with any nation in the world because we have a high rate of productivity. It is true that we have relatively higher wages, but we make up for it by having some of the best technology in the world," Ellison said.
"We are a world leader in technology and because of this we are in a position to recreate ourselves within a relatively shorter amount of time -- because we unleash the talent of the people. We believe that in a free enterprise system you are basically unbridling the talent of the people so that they can go out and be creative and help solve the world's problems."
He also noted that American Muslims bring strength to US relations across the Islamic world.
"The fact is that the Muslim community in America is strong and dynamic. We have an estimated seven million Muslims in America," Ellison said.
"That is an enormous number ... and we come from all over the world. We have an indigenous Muslim community, which I am from. We also have people who have become Americans by choice through immigration -- Pakistani-Americans, Bangladeshi-Americans, Indian-Americans, Arab-Americans -- people from all over the globe. If you go into a mosque in the United States, it is like going to the United Nations."
Ellison said America's Muslims are engaged and active.
"The Muslim community in America is a bridge. It can help explain America to the rest of the Muslim world and help explain the Muslim world to America," he said.
"We have an obligation as Americans to serve our nation, and we have an obligation as Muslims to help America know more about us. Our faith is one of peace. Our Holy Prophet (peace be upon him) himself was a businessman, and so was his wife. These are the things we want our fellow Americans to know."