01 April 2010
Fortune Teller Faces Execution In Saudi Arabia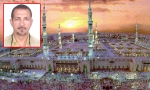 A Lebanese TV fortune teller, arrested in Saudi Arabia whilst on pilgrimage, and conned into signing a 'confession' by religious police, and subsequently charged with witchcraft, is due to be beheaded this week unless there is international intervention to prevent his execution
April 1, 2010, [PDN]: a Lebanese national was arrested in May 2008 in Saudi Arabia whilst on a pilgrimage (Umra) to Medina, charged with witchcraft by the religious police. He was subsequently sentenced to death, on November 9, 2009, under the draconian Sharia law, in a secret hearing where he was given no legal representation and unless reprieved will be beheaded later this week.
Ali Sabat hosted a popular Lebanese TV show in which he predicted the future and gave advice in kindred matters. However, the Mutawa'een, or religious police, accused him while he was in Medina of sorcery. Amnesty International suggests members of the Mutawa'een had recognized him from his satellite TV show, which was broadcast on the Sheherazade TV station. Ali Sabat did not break any Saudi law and the alleged crime was not committed on the Saudi soil, but in Lebanon and not even via a Saudi media facility.
Ali Sabat was effectively conned by the religious police into signing a 'confession' which convicted him; a common practice in Saudi Arabia. They apparently asked 'Ali to write down what he did for a living, reassuring him that he would be allowed to go home after a few weeks if he complied. The defendant was convicted after the statement he wrote was presented during the trial as a "confession", according to Amnesty International.
There was a subsequent appeal In January 2010, where the court merely asked for his repentance, but the verdict was overturned by a court in Madina on 10 March. The judges said that he deserved to be sentenced to death because he had practised "sorcery" publicly for several years before millions of viewers and that his actions "made him an infidel", again according to Amnesty International. Human Rights Watch is also a staunch critic of Saudi Arabia's campaign against sorcery and witchcraft, describing the laws as vaguely defined and arbitrarily used.
Now, his Beirut lawyer, May el-Khansa, after learning through unofficial channels of his imminent execution, is conducting an international campaign for her client's reprieve. So far she has contacted the Lebanese President Michel Sleiman and prime minister as well as the Lebanese ambassador to Saudi Arabia to intervene on his behalf. Ms. el-Khansa stated that Sabat's family was in shock over the news of Ali's imminent execution, adding that and that his mother was seriously ill with doctors saying she could die anytime.
Ms. el-Khansa has also appealed to Amnesty International; who have since accused the Saudis of "sanctioning a literal witch hunt by the religious police," according to the BBC. Malcolm Smart, head of Amnesty's Middle East and North Africa programme, said in a press release" Ali Hussain Sabat appears to have been convicted solely for the peaceful exercise of his right to freedom of expression. It is high time the Saudi Arabian government joined the international trend towards a worldwide moratorium Saudi Arabian on executions." In addition, Malcolm Smart urged the Lebanese authorities and Saudi King Abdullah to halt the execution.
Despite the official disapproval of anything remotely smacking of the occult, normal Saudi's have always and continue to be deeply interested in astrology, palmistry and other mantic arts. This, irrespective of the draconian practices of the hard-line religious police who operate autonomously from other security services, with the direct blessing of the Saudi royalty. They arrested scores of people for sorcery in 2009 and continue to do so.
Saudi Arabia is among the 58 countries worldwide that still practise capital punishment, ranking 3rd highest in terms of executions behind China and Iran